Spellman Announces Launch of New Spanish Language Website
August 31, 2011
August 31, 2011 – Hauppauge New York – Spellman High Voltage Electronics Corporation, the world's leading manufacturer of custom high voltage power conversion products, announces the launch of their new Spanish language website, www.spellmanhv.mx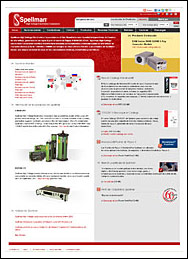 This website provides a comprehensive Spanish language parametric search engine and Product/Application Matrix. The new website also offers an online Request for Quotation form and a Spanish language Technical Resources section with numerous articles, application notes and answers to frequently asked questions.
According to Ken Chandler, General Manager of Spellman de Mexico, the company's 310,000 Sq. Ft. Production center in Matamoros Mexico, "This website will assist engineers through-out the Spanish speaking world to become familiar with the broad range of our products and to determine how their high voltage power conversion needs can best be met. We are very excited about our long-term commitment to the growing markets of Latin America, and look forward to developing partnerships with the many innovative technology companies and research centers in this region."
Information on Spellman and their wide range of high voltage products is available by calling +1-631-630-3000, or by visiting their website: www.spellmanhv.com
Spellman High Voltage Electronics is the world's leading provider of custom designed and standard AC-DC and DC-DC high voltage power converters and Monoblock® X-Ray sources for medical, industrial, semiconductor, security, analytical, laboratory, and under-sea cable power-feed applications. With design, manufacturing and service facilities in the US, UK, Mexico, China and Japan, and direct sales offices throughout Europe, Asia and North America, Spellman is committed to supporting advanced system providers and their customers throughout the world.