Spellman's SLM High Voltage Power Supply Series Extended to 1200 Watts
September 28, 2010
September 28, 2010 -- Spellman High Voltage Electronics Corporation (Hauppauge, NY) announces the extension of its SLM high voltage power supply series to 1200W. The SLM product family provides compact, modular, general purpose high voltage power supplies designed for use in high performance OEM applications.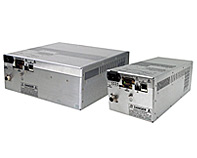 The SLM offers power factor corrected AC input circuitry, providing a wide range of input voltages, while minimizing utility service input current requirements and EMI concerns.
With robust resonant-based inverter topology, fast acting programmable voltage, current control loops, arc/short circuit discharge protection and Spellman's proprietary high voltage packaging, the SLM is a cost effective alternative to rack mount units for a variety of demanding scientific, industrial and medical applications.
The SLM can be controlled via analog or any of three standard digital interfaces. A Visual Basic GUI is available for remote RS-232/USB operation. An Ethernet interface has an embedded applet for remote control. Many of the SLM series options are user configurable through software.
Technical information on the SLM series is available at www.spellmanhv.com/products/SLM
Information on Spellman and their wide range of high voltage products is available by calling +1-631-630-3000, or by visiting their website: www.spellmanhv.com
Spellman High Voltage Electronics is the world's leading provider of custom designed and standard AC-DC and DC-DC high voltage power converters and Monoblock® X-Ray sources for medical, industrial, semiconductor, security, analytical, laboratory, and under-sea cable power-feed applications. With design, manufacturing and service facilities in the US, the UK, Mexico, China and Japan, Spellman supports advanced system providers and their customers throughout the world.