Spellman High Voltage Announces Release of New Monoblock® Reference Guide
July 27, 2010
Hauppauge New York – Spellman High Voltage Electronics Corporation announces the release of the X-Ray Source Reference Guide to its rapidly expanding Monoblock® (Spellman Registered Trademark) family of products.
Spellman currently offers more than a dozen innovative Monoblock® designs spanning voltage ranges from 75 to 200kV and power levels from 10W to 1kW. These compact X-Ray Sources combine high voltage generation, filament power, control circuitry and X-Ray tube in specially designed "tanks" insulated with dielectric oil for superior thermal management.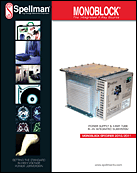 X-Ray system developers can now easily select from Spellman's broad Monoblock® product offerings with this convenient reference guide, or use this guide as a starting point to specify customized variations. The guide is available both in hard copy and downloadable PDF formats.
Serving applications including medical imaging, plating measurement, food and product inspection, CT-based EDS security systems, baggage security screening dental CT, micro-focus inspection, and non destructive testing, Spellman has fielded in excess of 20,000 Monoblocks® over the past two decades.
Spellman's Monoblock® reference guide can be downloaded here.
Information on Spellman and their wide range of high voltage products is available by calling +1-631-630-3000, or by visiting their website: www.spellmanhv.com
Spellman High Voltage Electronics is the world's leading provider of custom designed and standard AC-DC and DC-DC high voltage power converters and Monoblock® X-Ray sources for medical, industrial, semiconductor, security, analytical, laboratory, and under-sea cable power-feed applications. With design, manufacturing and service facilities in the US, UK, Mexico, China and Japan, and direct sales offices throughout Europe, Asia and North America, Spellman is committed to supporting advanced system providers and their customers throughout the world.