Spellman China Announces Relocation to New, Larger Facility
February 26, 2010
Hauppauge New York – Spellman High Voltage Electronics Corporation, the world's leading manufacturer of high voltage power conversion products, is proud to announce the relocation and expansion of their Chinese operations in Suzhou Industrial Park, China, to Block D, No.16 SuTong Road, Suzhou Industrial Park 215021 China.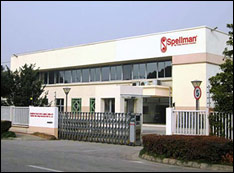 Originally established in 2004 as a service and sales support operation, Spellman China now has 70 employees in a 3,437 m2 (37,000 sq. ft.) facility. Spellman's state-of-the-art production center houses engineering, assembly, test, repair, sales, and administration.
David Gillispie, Vice President of Operations, said, "This latest move will give us the ability to better serve our customers in a key market. The expansion of the China facility allows us to leverage our experience in lean manufacturing, supply chain, and logistics to build the highest quality product with greatly reduced lead times."
"Spellman is committed to becoming a preferred supplier of advanced high voltage solutions for equipment manufacturers and laboratories within China," explains Loren Skeist, President. "We are excited by the opportunity to develop the local technical and manufacturing resources needed to adapt our technology to the needs of high-tech equipment manufacturers in China."
Information on Spellman and their wide range of high voltage products is available by calling +1-631-630-3000, or by visiting their website: www.spellmanhv.com
Spellman High Voltage Electronics is the world's leading provider of custom designed and standard AC-DC and DC-DC high voltage power converters and Monoblock® X-Ray sources for medical, industrial, semiconductor, security, analytical, laboratory, and under-sea cable power-feed applications. With design, manufacturing and service facilities in the US, UK, Mexico, China and Japan, and direct sales offices throughout Europe, Asia and North America, Spellman is committed to supporting advanced system providers and their customers throughout the world.