Spellman Announces the All New ST Series High Voltage Power Supply
January 26, 2010
January 26, 2010 – Hauppauge New York – Spellman High Voltage Electronics Corporation, the world's leading manufacturer of high voltage power conversion products, announces the introduction of its new 10kW ST Series of high voltage power supplies.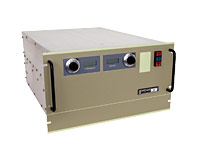 The ST features positive or negative polarity in 18 different models with outputs ranging from 1kV to 120kV. Front panel controls allow for easy local operation, and an analog interface provides comprehensive remote capability. An on board Ethernet interface with 12 bit resolution simplifies integration of the ST into OEM systems, since many operational features can be programmed by the user.
The ST's robust IGBT inverter is inherently fault tolerant, making the series ideal for demanding applications such as semiconductor processing and vacuum deposition. The 6U 19 inch rack-width ST can flexibly provide power up to 60kW by configuring additional chassis in parallel.
The ST will be available for purchase in the summer of 2010. Technical literature and additional information on the ST Series can be obtained at: www.spellmanhv.com/ST
Information on Spellman and their wide range of high voltage products is available by calling +1-631-630-3000, or by visiting their website: www.spellmanhv.com
Spellman High Voltage Electronics is the world's leading provider of custom designed and standard AC-DC and DC-DC high voltage power converters and Monoblock® X-Ray Sources, for medical, industrial, semiconductor, security, analytical, security, laboratory, and under-sea cable power-feed applications. With design, manufacturing and service facilities in the US, UK, Mexico, China and Japan, and direct sales offices throughout Europe, Asia and North America, Spellman is committed to supporting advanced system providers and their customers throughout the world.