Spellman's CZE High Voltage Series: The "Standard" for Electrospinning
November 12, 2009
Hauppauge New York – Spellman High Voltage Electronics Corporation, the world's leading manufacturer of custom high voltage power conversion products, announces its CZE Series of high voltage power supplies originally designed for Capillary Zone Electrophoresis applications, has been adopted as the power supply of choice by the growing Electrospinning community.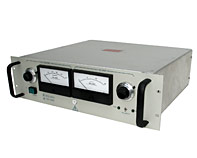 Electrospinning is a fabrication technique utilizing an electrostatic method of creating "nano-fibers" of varying composition. These spun fibers promise to address the manufacturing challenges in fields as diverse as artificial organ creation, drug delivery systems, advanced filtration media, and medical textiles.
Spellman High Voltage's CZE Series of high voltage power supplies play a crucial role in the innovative Electrospinning manufacturing process. The highly stable 0-30kV, 300uA supply, features automatic polarity reversing, and low stored energy output. The CZE is available in a modular format for OEM integration and as a "ready to use" rack mountable unit with front panel controls, which makes it ideal for the desktop Electrospinning laboratory environment.
Technical literature and information on the CZE1000R is available at: www.spellmanhv.com/cze1000r
Information on Spellman and their wide range of high voltage products is available by calling +1-631-630-3000, or by visiting their website: www.spellmanhv.com
Spellman High Voltage Electronics is the world's leading provider of custom designed and standard AC-DC and DC-DC high voltage power converters for: medical, industrial, analytical, and security applications; semiconductor manufacturing; scientific instrumentation; and power feed systems for undersea cables. Spellman is headquartered in the U.S. and has facilities in Japan, Mexico, Europe, and China that provide design, manufacturing and service to our customers throughout the world.