Spellman Introduces New Precision Floating Power Supply
April 30, 2008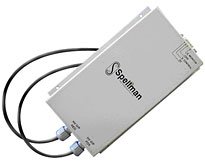 April 30, 2008, Hauppauge, NY ... Spellman High Voltage Electronics Corporation announces today the introduction of the MCP high voltage power supply, specifically designed for Mass Spectrometry microchannel plate detectors and electron multiplier applications.
The MCP's 3kV, 330uA output section is floating and isolated to 16kV, allowing easy referencing of the output to voltage potentials other than ground. Additionally the floating output capability provides simple inherent polarity reversibility. A customer provided analog 0-10Vdc programming signal will adjust the supply from 0-100% of rated output voltage, and a corresponding voltage feedback monitor signal is provided.
The low ripple and accurate regulation specifications of the MCP provide the precision and demanding performance needed in Mass Spectrometry applications. This compact +24Vdc input modular supply at 1.49"H X 4.09"W X 6.73"D (38mm X 104mm X 171mm) can be customized for specific OEM requirements.
Please visit http://www.spellmanhv.com/mcp for technical literature and additional information on the MCP. Information regarding other Spellman products can be obtained by calling 1-631-630-3000, or by visiting: www.spellmanhv.com.
Spellman High Voltage Electronics is the world's leading independent manufacturer of high voltage, DC power converters for a wide range of applications, including medical imaging, industrial processes, semiconductor manufacturing, scientific instrumentation, telecommunications, X-ray inspection and security. Spellman specializes in providing custom designs to suit unique requirements and is headquartered in the U.S. with facilities in Mexico, Europe, Japan and China that provide design, manufacturing and technical support to our customers throughout the world.