Spellman High Voltage Opens Its Second Manufacturing Plant in Mexico
June 03, 2008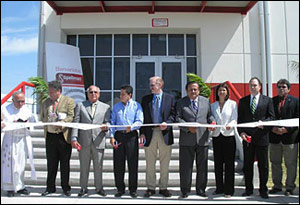 Hauppauge, New York, June 3, 2008 - Spellman High Voltage Electronics Corporation has announced the opening of a second manufacturing facility in Matamoros, Mexico. Due to increased global demand for Spellman's high frequency, high voltage, DC power supplies, X-Ray generators, and Monoblock®
X-Ray sources, Spellman has expanded into this advanced 37,500 sq. ft. (3,483 sq. meter) subassembly facility, to support its existing 88,000 sq. ft. (8,175 sq. meter) top assembly and test facility.
The ribbon cutting ceremony was attended by a representative from the Provincial Governor's Office, the Mayor of Matamoros, the Union President, the corporate leadership of Spellman, and the President of Finsa, the Matamoros industrial park's real estate development firm.
Spellman's Mexico Plant 2 will encompass the manufacturing and test of subassemblies servicing the Mexican top assembly facility (Plant 1), and Spellman's manufacturing and repair facilities in New York, Japan, China and the UK. Plant 2 houses metal fabrication, PCB and high voltage assembly, coil, transformer, and cable production. Mexican operations for Plant 1 and 2 are staffed by over 540 highly trained assemblers, technicians and engineers.
Ken Chandler, General Manager of Mexico Operations stated, "Plant 2, which initiated operations on March 1st is expected to be fully operational by late June. We deeply appreciate the efforts of the City of Matamoros, the State of Tamaulipus, the Maquilla Association, the Union, and Finsa to improve the infrastructure and the quality of life in Matamoros. Our technically sophisticated, high mix/low volume products require employees who want to be challenged to learn, and constant access to design, manufacturing, and quality engineers based in New York. We are pleased by our growth here, and are committed to continue to grow in Matamoros."
Dr. Skeist, in his dedication speech, extolled the quality, work ethic and commitment of employees and management stating, "Thanks to your efforts, Spellman de Mexico has become a Center of Manufacturing Excellence, providing us with an unrivaled strategic advantage in our niche. Matamoros provides an excellent location, and a highly qualified and motivated labor force at a competitive cost. Dialogue between government agencies, unions, schools, developers such as Finsa, and the business community has strengthened Matamoros' competitive position for attracting foreign investments."
Information regarding Spellman and its industry leading products can be obtained by
calling 1-631-630-3000 or by visiting: www.spellmanhv.com