Spellman Expands Its XRB Monoblock® Series with New 80kV Offering
August 01, 2008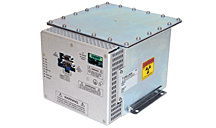 August 1, 2008 - Spellman High Voltage Electronics Corporation (Hauppauge, NY) has announced the expansion of its XRB Monoblock® series of integrated X-Ray sources with the introduction of the new 80kV Monoblock. Spellman's Monoblocks® eliminate the need for expensive, vulnerable external high voltage cabling by integrating the high voltage power supply, filament power supply, X-Ray tube and control electronics into a single, compact, easy to use package.
The new, cost effective 80kV, 100 Watt X-Ray source features a power factor corrected universal input, and both an analog and digital (RS-232) interface. This fully sealed unit can be mounted in any physical orientation, and can be ordered with options for either a fan-shaped or cone-shaped X-Ray beam geometry.
Typical applications for the XRB series include: plating measurement, fill-level confirmation, and inspection (e.g., food, security/baggage). Spellman's Monoblocks® can be optimized for beam shape, focal spot size and other critical parameters for unique OEM requirements.
Technical literature and information on the XRB Series of Monoblock® X-Ray sources is available here.
Information on other Spellman products is available by calling us at +1-631-630-3000, or by visiting our website: www.spellmanhv.com.
Spellman High Voltage Electronics is the world's leading provider of custom designed and standard AC-DC and DC-DC high voltage power converters for: medical, industrial, analytical, and security applications; semiconductor manufacturing; scientific instrumentation; and power feed systems for undersea cables. Spellman is headquartered in the U.S. and has facilities in Japan, Mexico, Europe, and China that provide design, manufacturing and service to our customers throughout the world.