Spellman High Voltage Introduces New SIC Digital Interface Card
August 11, 2006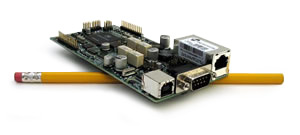 HAUPPAUGE, New York-August 11, 2006 -- Spellman High Voltage Electronics Corporation announced the introduction of their new SIC standard digital interface control card. The SIC control card provides three types of communication interfaces: RS-232, Ethernet (10/100 Base-T), and USB (Universal Serial Bus). The custom designed surface mount interface board is small enough to be installed inside many of Spellman's existing high voltage power supply offerings, providing digital control of most standards products.
Supporting three popular interface protocols, the SIC control card allows for the selection of interface best suited for the requirements. Data acquisition and control capabilities are provided by three microprocessors: a 40MIPS digital signal processor, a network processor, and a USB processor/controller. Interface functionality is achieved via fourteen channels of 12 bit analog-to-digital converters, two additional analog channels that monitor house keeping power supply and ambient temperature, five digital output bits, eight digital input bits, and three relay/interlock contacts.
The SIC digital interface card, along with a full compliment of software, provides easy, out-of-the-box functionality. A full featured GUI (graphical user interface), written in Visual Basic, allows for control of the power supply via any one of three interfaces. Additionally, a diagnostic web server can control and monitor any SIC equipped power supply from a web browser. Control, operational status, and real time configuration of the power supply can all be accomplished through the use of a provided control applet.
Technical literature and additional information on the SIC digital control cards, as well as all other Spellman products, is available by contacting Spellman High Voltage at (631) 630-3000, or by visiting the product's technical specifications.
Spellman High Voltage Electronics is the world's leading independent manufacturer of high voltage DC power supplies, Monoblock® X-ray generators and power systems for medical and industrial applications, semiconductor manufacturing, scientific instrumentation, telecommunications, X-ray and automatic test equipment. We specialize in providing custom designs to suit unique requirements. Spellman is headquartered in the U.S. and has facilities in the U.K., Japan, China, and Mexico that provide design, manufacturing, and service to our customers throughout the world.