Spellman High Voltage Introduces New CCM Cap Charging Module
August 25, 2006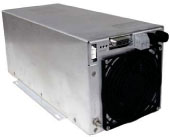 Spellman High Voltage Electronics Corporation announced the introduction of their CCM Capacitor Charging Module. This compact, cost effective OEM based high voltage power supply was specifically designed to power UV light sources for curing and sterilization. Other uses include industrial and medical lasers, as well as ICP-MS (inductively coupled plasma mass spectrometry) applications. Providing 3100 joules per second at up to 4kV, the CCM's power density of 6.6 watts per cubic inch packs 30% more power into the same size volume of other commercially available units. The CCM is power factor corrected AC input circuitry provides a wide range of input voltage capability while minimizing utility service input current requirements. The CCM also provides a low voltage +24Vdc at 2.2 amps output to power remote auxiliary circuitry.
By combining a simple modular design, a robust IGBT-based inverter topology, and Spellman's proprietary high voltage packaging, Spellman has achieved a reliable, cost effective power supply ideal for a variety of capacitor charging applications. Comprehensive digital fault diagnostics and a simplified analog interface make system integration of the CCM relatively straightforward.
Technical literature and additional information on the CCM Cap Charging Module, as well as all other Spellman products, is available by contacting Spellman High Voltage at (631) 630-3000, or by visiting the product's technical specifications.
Spellman High Voltage Electronics is the world's leading independent manufacturer of high voltage DC power supplies, Monoblock® X-ray generators and power systems for medical and industrial applications, semiconductor manufacturing, scientific instrumentation, telecommunications, X-ray and automatic test equipment. We specialize in providing custom designs to suit unique requirements. Spellman is headquartered in the U.S. and has facilities in the U.K., Japan, China, and Mexico that provide design, manufacturing, and service to our customers throughout the world.