SMS Series
Output Voltages from 1kV to 60kV
Low Stored Energy
Enable/Inhibit Control of Output
OEM Customization Available
*Note: All specifications are subject to change without notice. Please consult the English PDF version of this datasheet for the most up-to-date revision.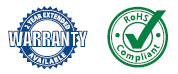 60W High Voltage Power Supplies
Spellman's SMS Series of 60 watt high voltage power sup­plies are based on a proprietary resonant fly back power conversion topology that provides over 80% efficiency. These fixed polarity modules (specify positive or negative at time of order) feature both voltage and current regula­tion with automatic crossover, making them ideal for sen­sitive load applications. The robust design of SMS Series along with comprehensive arc and short circuit protection allow operation in the most demanding environments.
Typical applications:
Electrospinning
Hipot Testing
Detector Arrays
Electrophoresis
Cable Testing
(Ref. 128015-001 REV. P)
Input:
+24Vdc ±10% @ 4.0A
Output:
10 models from 1kV to 60kV. Positive or negative polarity outputs.
Efficiency:
80 to 85%, typical
Voltage Regulation:
Load: 0.01% of output voltage no load to full load.
Line: ±0.01% for ±10% change in input voltage.
Current Regulation:
Load: 0.1% of output current from 0 to rated voltage.
Line: 0.05% of rated current over specified input range.
Stability:
0.02% per 8 hours.
Temperature Coefficient:
0.01% per °C, voltage or current regulated.
Ripple:
0.1% p-p of maximum output voltage.
Environmental:
Temperature Range:
Operating: 0°C to 40°C
Storage: -40°C to 85°C
Humidity:
0 to 90%, non-condensing
Dimensions:
3.H x 5.W x 9.D (7.6cm x 12.7cm x 23.0cm).
Weight:
5.25 pounds (2.38kg)
Input Connector:
12 pin AMP Metri-Mate (mating connecter and pins provided)
Output Cable:
18.±1. (45.7cm) of UL® approved high voltage wire
Front Panel Ground Connection:
Threaded 8-32 ground stud, nut provided
Regulatory Approvals:
CCompliant to EEC EMC Directive. Compliant to EEC Low Voltage Directive. RoHS Compliant.
SMS SELECTION TABLE
Maximum Rating
Model Number
kV
mA
 
1
60
SMS 1*60
3
20
SMS 3*60
5
12
SMS 5*60
10
6
SMS 10*60
15
4
SMS 15*60
20
3
SMS 20*60
30
2
SMS 30*60
40
1.5
SMS 40*60
50
1.2
SMS 50*60
60
1.0
SMS 60*60
*Specify "P" for positive polarity or "N" for negative polarity. 
CONNECTOR 12 PIN
| Pin | Signal | Parameters |
| --- | --- | --- |
| 1 | Power Ground | +24Vdc Return |
| 2 | +24Vdc Input | +24Vdc @ 3.5 amps, maximum |
| 3 | High Voltage Enable/Inhibit | Open = HV OFF, Ground = HV ON |
| 4 | Voltage Test Point | 0 to 10Vdc = 0 to 100% of rated output |
| 5 | Current Test Point | 0 to 10Vdc = 0 to 100% of rated output |
| 6 | Voltage Programming | 0 to 10Vdc = 0 to 100% of rated output |
| 7 | Current Programming | 0 to 10Vdc = 0 to 100% of rated outp |
| 8 | +10Vdc Reference | +10Vdc @ 1mA maximum |
| 9 | Signal Ground | Signal Ground |
| 10 | Spare | No Connection |
| 11 | Spare | No Connection |
| 12 | Spare | No Connection |