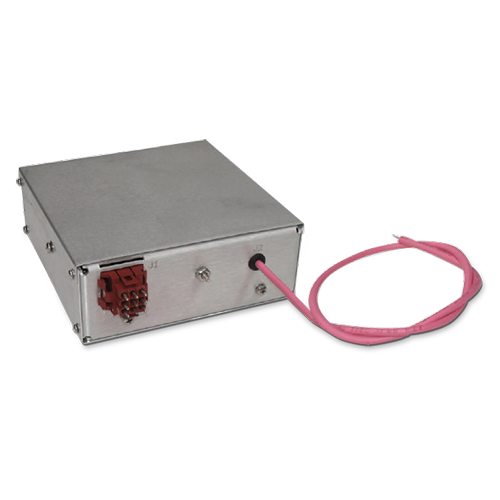 SERIE EPM
Voltaje de salida de 1 kV a 30 kV
Programación de voltaje y corriente
Control de salida mediante señal de habilitar/inhibir
Personalización disponible para OEM
30W High Voltage Power Supplies
La serie EPM de fuentes de alimentación de alto voltaje proporciona voltaje bien regulado, bajo rizo y alta eficiencia en un diseño compacto.
El voltaje y la corriente de salida son controladas en todo el rango de operación. Todas las señales de monitoreo y programación de voltaje y corriente son de 0 a 10 VCD, que corresponde a 0 a 100% de la salida nominal. Una señal de inhibir/activar el alto voltaje permite el control de encendido/apagado simple de la fuente de alimentación.
Aplicaciones típicas:
Electroforesis
Fotomultiplicadores
Rayos de electrones
Aplicaciones de laboratorio
Fuentes de iones
Electrohilado

(Ref. 128003-001 REV. P)
Input:
+24Vdc ±10% @ 2A
Output:
8 models from 1kV to 30kV. Each model is available in positive or negative polarity output.
Voltage Regulation:
Load: 0.02% of output voltage for a full load change.
Line: 0.01% for ±10% change in input voltage.
Current Regulation:
Load: 0.01% of output current from 0 to rated voltage.
Line: 0.01% of rated current over specified input range.
Ripple:
0.1% p-p of maximum rated output voltage.
Dimensions:
2.06"H x 5.63"W x 5.69"D
(52.32mm x 143mm x 144.53mm)
Weight:
2.2 pounds (1kg)
Input Connector:
9 pin AMP Metri-Mate. Mating connector and pins supplied.
Output Cable:
18" ±1" (457mm) of UL® listed high voltage wire.
Voltage Stability:
0.02% per 8 hours (after 1/2 hour warm-up).
Voltage Temperature Coefficient:
0.01% per °C.
Voltage Test Point:
10Vdc ±2% = maximum rated output.
Current Test Point:
10Vdc ±2% = maximum rated output.
Remote Enable:
3.4Vdc = HV ON.
1.0Vdc or open = HV OFF.
Regulatory Approvals:
Compliant to EEC EMC Directive (1kV to 15kV only).
Compliant to EEC Low Voltage Directive (1kV to 15kV only).
UL/CUL recognized, File E148969 (1kV to 15kV only).
EPM SELECTION TABLE
Maximum Rating
Model Number
kV
mA
1
30
EPM 1*30
3
10
EPM 3*30
5
6
EPM 5*30
10
3
EPM 10*30
15
2
EPM 15*30
20
1.5
EPM 20*30
25
1.2
EPM 25*30
30
1
EPM 30*30
*Specify "P" for positive polarity or "N" for negative polarity.
INPUT— 9 PIN AMP CONNECTOR
| Pin | Signal | Parameters |
| --- | --- | --- |
| 1 | Power Ground | Power Ground |
| 2 | +24Vdc | +24Vdc @ 1.85 amps, maximum |
| 3 | High Voltage Enable/Inhibit | 0Vdc = HV OFF, +5Vdc = HV ON (see manual for details) |
| 4 | Voltage Test Point | 0 to 10Vdc = 0 to 100% rated output, Zout = 10kΩ |
| 5 | Current Test Point | 0 to 10Vdc = 0 to 100% rated output, Zout = 10kΩ |
| 6 | Voltage Programming | 0 to 10Vdc = 0 to 100% rated output, Zin = 10MΩ |
| 7 | Current Programming | 0 to 10Vdc = 0 to 100% rated output, Zin = 10MΩ |
| 8 | +10Vdc Reference | +10Vdc @ 1mA maximum |
| 9 | Signal Ground | Signal Ground |