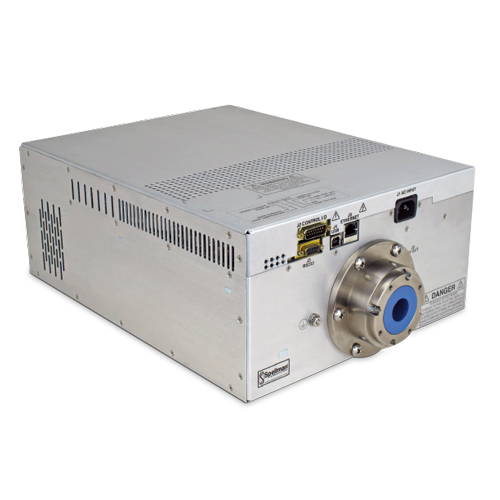 DXM100 Series
Output of 100kV at up to 1200W
Compact & Lightweight Modular Unit
Universal Input, Power Factor Corrected
USB, Ethernet and RS-232 Standard Interfaces
User Programmable Ramping and Arc Detect Feature
CE Compliant
*Note: All specifications are subject to change without notice. Please consult the English PDF version of this datasheet for the most up-to-date revision.


1200W Industrial X-Ray Generators
Spellman's new DXM100 X-Ray generator module is designed for OEM applications up to 100kV at 1200 watts. Its universal input, small package size and choice of three standard digital interfaces simplifies integrating the DXM100 into your X-Ray analysis system. DSP based emission control circuitry provides excellent regulation of emission current, along with outstanding stability.
Typical applications:
NDT Analysis
Plating Measurement
Mineral Analysis
Crystal Inspection
Diamond Inspection
Food/Product Inspection
(Ref. 128107-001 REV. J)
Input Voltage:
Power factor corrected input, ≥ 0.98 180-264Vac, 47-63Hz, 8.25A maximum
Output Voltage:
100kV, maximum
Output Polarity:
Negative-for floating filament X-Ray tubes
Output Current:
12mA maximum
Output Power:
1200 Watts maximum
Output Voltage Regulation:
≤ 0.01% of rated output voltage over specified input voltage range
≤ 0.01% of rated output voltage for a full load change
Emission Current Regulation:
≤ 0.01% of rated output current over specified input voltage range
≤ 0.01% of rated output current for a change from 30% to 100% of rated output voltage
Filament is disabled when kV is <30% of full scale output
Ripple:
≤ 1%rms at >20 kHz, 0.1%rms below 20 kHz
Stability:
≤ 25ppm/hr after a 2 hour warm up
Temperature Coefficient:
≤ 50ppm per degree C
Environmental:
Temperature Range:
Operating: 0°C to 40°C
Storage: -40°C to 85°C
Humidity:
20% to 85% RH, non-condensing.
Filament Configuration:
Closed loop emission control regulates filament setting
to provide desired X-Ray tube emission current.
Output: 5.0 amps at a compliance of 10.0 volts, maximum. The filament loop is disabled when the kV output is less than 30% of full scale output to protect the X-Ray tube. Other filament levels available on special order.
Control Interface:
Local Interface:
Potentiometers are provided to adjust filament limit and preheat levels
Remote Interface:
USB, Ethernet and RS-232 are standard. All digital monitors have an accuracy specification of 2%
Control Software:
A Windows graphical user interface example is provided
High Voltage Enable:
A hardware based, dry contact closure will enable the power supply into the high voltage on mode
Monitor Signals:
Voltage and current monitor signals are scaled 0-10Vdc equals 0-100% of full scale, accuracy is 1%
Over Power Fault:
The maximum power the unit can supply can be programmed (0-1200 watts) via the digital interface, this setting will be stored in memory. An over power fault will occur if the output power is ≥ 105% of the set point value. When an over power fault occurs the high voltage output will be disabled and the Over Power Fault indictor will be activated on the GUI/Applet. Additionally both the UV and OV fault LED's on the DXM100 will be illuminated.
Cooling:
Forced air
Dimensions:
6.25. H X 12. W X 15.5. D (158.75mm x 304.79mm x 393.7mm)
Weight:
43 pounds (19.5kg)
Input Line Connector:
IEC320 with EMI filter, 6´ (1.83 meter) cord set provided
Output Connector:
CA10 (R10). See table for pin out information
Regulatory Approvals:
Compliant to EEC EMC Directive. Compliant to EEC Low Voltage Directive. UL/CUL recognized, File E227588. RoHS Compliant.
DXM100 ANALOG INTERFACE—J2 15 PIN MALE D CONNECTOR
| Pin | Signal | Signal Parameters |
| --- | --- | --- |
| 1 | Power Supply Fault | Open Collector, 35V @ 10mA Maximum |
| 2 | Current Program In | 0 to 10V=0 to 100% Rated Output, Zin=10MΩ |
| 3 | Voltage Program In | 0 to 10V=0 to 100% Rated Output, Zin=10MΩ |
| 4 | Filament Limit Input | 0 to 10V=0 to 100% Rated Output, Zin=10MΩ |
| 5 | Local Filament Limit | Multi-turn front panel potentiometer |
| 6 | Filament Preheat Input | 0 to 10V=0 to 100% Rated Output, Zin=10MΩ |
| 7 | Local Filament Preheat | Multi-turn front panel potentiometer |
| 8 | Voltage Monitor | 0 to 10V=0 to 100% Rated Output, Zout =4.99k, 1% |
| 9 | Signal Ground | Ground |
| 10 | Current Monitor | 0 to 10V=0 to 100% Rated Output, Zout =4.99k, 1% |
| 11 | X-ray Enable Input | Connect to Pin 12 to HV Enable Supply |
| 12 | X-ray Enable Output | +15V @ Open, ≤15mA @ Closed |
| 13 | Filament Monitor | 1 Volt=1 Amp, Zout=10kΩ |
| 14 | X-ray On Output Signal | Open Collector, 35V @10mA Maximum |
| 15 | Spare | NC |
RS-232 DIGITAL INTERFACE—J3 9 PIN FEMALE D CONNECTOR
| Pin | Signal | Signal Parameters |
| --- | --- | --- |
| 1 | NC | No Connection |
| 2 | TX out | Transmit Data |
| 3 | RX in | Receive Data |
| 4 | NC | No Connection |
| 5 | SGND | Ground |
| 6 | NC | No Connection |
| 7 | NC | No Connection |
| 8 | NC | No Connection |
| 9 | NC | No Connection |
USB DIGITAL INTERFACE—J4 4 PIN USB "B" CONNECTOR
| Pin | Signal | Signal Parameters |
| --- | --- | --- |
| 1 | VBUS | +5 Vdc |
| 2 | D- | Data - |
| 3 | D+ | Data + |
| 4 | GND | Ground |
ETHERNET DIGITAL INTERFACE—J5 8 PIN RJ45 CONNECTOR
| Pin | Signal | Signal Parameters |
| --- | --- | --- |
| 1 | TX+ | Transmit Data + |
| 2 | TX- | Transmit Data - |
| 3 | RX+ | Receive Data + |
| 4 | NC | No Connection |
| 5 | NC | No Connection |
| 6 | RX- | Receive Data - |
| 7 | NC | No Connection |
| 8 | NC | No Connection |
J6 CA10 (R10) HV CONNECTOR
| Pin | Output Connection |
| --- | --- |
| C (common) | High Voltage Output |
| S (small) | High Voltage Output |
| L (large) | Filament Output |
Note: No high voltage cable is provided
DIMENSIONS: in.[mm]
BOTTOM VIEW
FRONT VIEW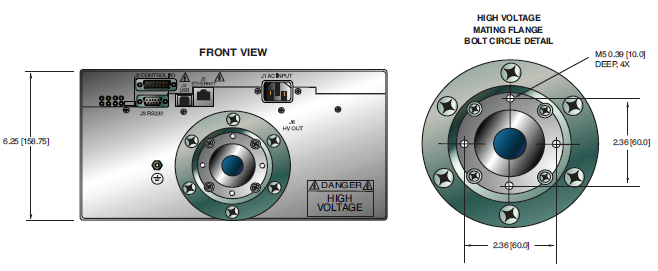 SIDE VIEW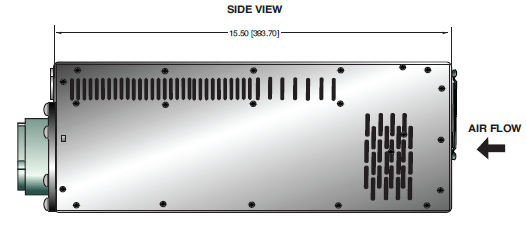 Frequently Asked Questions
Application Notes AN-12 – The Benefit of Using a Current Source to Power X-Ray Tube Filament Circuits
Application Notes AN-01 – Fundamentals of X-Ray Generator – X-Ray Tube Optimization