Spellman's Introduces New MXE Series for Precision Applications
May 22, 2023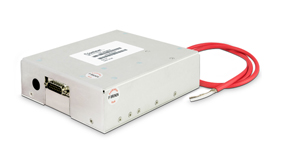 Hauppauge New York – Spellman High Voltage Electronics Corp, the world's leading high voltage power supply, X-Ray generator and Monoblock® X-Ray source manufacturer, announces the introduction of the MXE family of high voltage, high performance, ultra-compact, hot-switchable polarity reversing modules with output voltages ranging from 1kV to 30kV at 200µA.
The MXE series is controlled via analog interface, provided via a standard 15-pin D-type connector. The units feature a differential voltage program input for low noise control and TTL compatible Enable and Polarity control signal inputs.
Spellman's advanced low noise, high stability technology provides the high quality and performance needed for precision applications including: Mass Spectrometry, Automatic Test Equipment, Capillary Electrophoresis, Dual Ion Surface Analysis, Electrostatic Printing, Electrostatic Lenses, Electrospinning, Precision Laboratory. Products are CE, RoHs and UKCA certified.
Come see the MXE, along with several other precision products at ASMS 2023 in Houston, TX, June 4-8. See us at booth 720.
Detailed technical information and datasheets on these or any of Spellman's wide range of high voltage products is available by contacting sales@spellmanhv.com or by visiting Spellman's website: www.spellmanhv.com.
Spellman High Voltage Electronics is the world's leading provider of custom designed and standard AC-DC and DC-DC high voltage power converters and Monoblock® X-Ray sources for medical, industrial, semiconductor, security, analytical, laboratory, and under-sea cable power-feed applications. With design, manufacturing and service facilities in the US, UK, Mexico, China and Japan, and direct sales offices throughout Europe, Asia and North America, Spellman is committed to supporting advanced system providers and their customers throughout the world.