Spellman High Voltage to Exhibit at Microscopy & Microanalysis 2023 in Minneapolis, MN
July 12, 2023
Hauppauge New York… Spellman High Voltage Electronics Corporation, the world's leading manufacturer of custom high voltage power conversion products, will be exhibiting a selection of X-Ray sources of exceptional value and performance at the upcoming Microscopy & Microanalysis Conference, July 23-27 in Minneapolis MN.
Spellman's comprehensive portfolio of standard and customized solutions are specifically designed for the unique demands of analytical and biotechnology instrumentation and have been adopted by many major OEM system manufacturers in the areas of microscopy and microanalysis.
Spellman's extensive application knowledge and unique design capabilities enable the design of exacting products that achieve the ever-increasing performance demands in this area, be it low ripple, ultra-stable outputs, minimal micro-discharges or robust protection. Solutions are available for Scanning Electron Microscopes (SEM), Focused Ion Beam (FIB), Micro Optics, Semiconductor Lithography and development mask work instrument types.
Spellman's technical and sales staff will be available at Booth #1011 to discuss their many innovative High Voltage Solutions for Microscopy and Microanalysis applications.
Spellman's EBM range has solutions that will drive most emitters, including thermionic emitters such as Tungsten and LaB6, and Field Emission types such as Cold Cathode and Schottky. All products are provided with the integral outputs to provide the acceleration voltage and drive the emitter, and many also include the High Voltage outputs to drive the many detectors deployed on the Microscopes.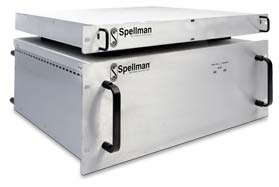 The FIB range incorporates high stability accelerator voltages with the floating outputs to drive traditional Ga Ion and Plasma Sources in a compact 19 inch rack solution. An additional Lens rack is available, providing high performance fixed or reversible polarity high voltage lenses required to focus the column.
With Spellman's exceptional performance built-in, including low ripple and low micro-discharge, and sub-ppm level stability, the customer is guaranteed the ultimate image quality and resolution, from a repeatable and reliable source...
Please join us at M&M to learn more about how we can help improve the performance of your system with our advanced, cost-effective high voltage technology. Information on Spellman and their wide range of high voltage products is available by calling +1-631-630-3000, or by visiting our website: www.spellmanhv.com
The Microscopy & Microanalysis Conference will be host to over 1200 platform and poster sessions, workshops, tutorials, and networking events, in addition to four days of the world's largest Microscopy products and services commercial expo hall in the world. Information on the annual M&M Conference can be found at www.microscopy.org/
Spellman High Voltage Electronics is the world's leading provider of high performance, custom and standard DC high voltage power converters and Monoblock® X-Ray sources for medical, industrial, semiconductor, security, analytical, laboratory and under-sea cable power-feed applications. As a global supplier with strategically located design and manufacturing facilities in North America, Europe and Asia, Spellman is committed to providing best-in-class support to OEM customers and end-users throughout the world.