Spellman and Stony Brook University Partner on High Voltage Power Electronics Research Lab
April 05, 2021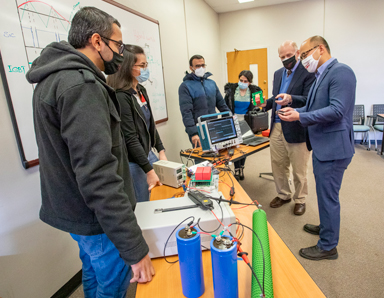 Hauppauge, NY, Spellman High Voltage Electronics Corp, the world's largest independent manufacturer of custom high voltage power conversion and X-Ray products, announces that it is funding a high voltage power electronics teaching and research laboratory for Stony Brook University's new Power Electronics program. Spellman engineers are helping specify benches, equipment, cooling systems, and other features in the new lab to train the next generation of power electronics engineers and advance research in the field. This corporate-academic collaboration follows a long tradition of corporate funded university research, and is one of the few in the field of high voltage power electronics.
"This Stony Brook partnership just makes sense," said Spellman President and CEO Dr. Loren Skeist. "If we want to continue to be on the vanguard, we need to help advance new knowledge in power electronics and the next generations of power electronics engineers."
Spellman is no stranger to innovation, having helped pioneer the modern helical CT scanner by providing the first ever generator mounted on a continuously rotating gantry. Additionally, Spellman was behind the high voltage converters used to separate DNA segments, which led to the sequencing of the human genome. They've also been involved in early-stage research in nanotechnology and designing high voltage converters that enable efficient transmission of data across underwater fiber optic cables that power the Internet, among many other advances in technology.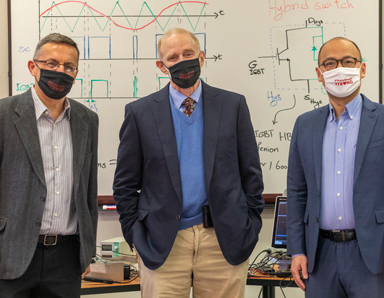 With this gift, Spellman will continue to aid in the advancement of technology for high voltage energy conversion, an effort that has rapidly gained significance as the need for more energy power electronics applications has increased. The Lab will also accelerate Stony Brook's work in alternative energy and power conversion systems such as wind power generators, fuel cells, hybrid electric vehicles and all-electric ships and aircraft propulsion systems as well as advances in power electronics that will contribute to dramatic improvements in the performance, reliability and cost-effectiveness of a wide range of equipment and electric energy processing systems.
The promise of the Spellman High Voltage Power Electronics Laboratory is helping attract eminent faculty and researchers to the University's Power Electronics program in the Department of Electrical and Computing Engineering, including Dr. Fang Luo, who has been appointed as the Lab's new director.
"In power electronics, students need not only theoretical training, but real-world experiences in a lab," said Professor Luo. "In the new Spellman High Voltage Power Electronics Laboratory, our students will learn how to safely work on controlling electrical power — and not just reducing the 120-480 volt power from the grid down to 3.3 volts to charge or run consumer electronics, but increasing it to hundreds of thousands of volts."
"Partnerships like this are critical to the success of our academic programs," said the Dean of the College of Engineering and Applied Sciences, Fotis Sotiropoulos. "They integrate our commitment to experiential learning with real-time industry initiatives, standards and goals".
The new Spellman High Voltage Power Electronics Lab will offer students the hands-on experiential training that will give them a competitive edge for internships, graduate school, future jobs and purposeful careers. Many of the opportunities will be at Spellman, about 20 miles from Stony Brook's campus in Hauppauge.
"This is a win for the students in Stony Brook's innovative new program, for Spellman High Voltage Electronics Corporation, and for the future of power electronics," said Dr. Skeist.
Visit "Powerful Partnership Supercharges the Future," for more information on this recent Spellman—Stony Brook University collaboration by clicking here.
About Spellman High Voltage Electronics Corp.
Spellman High Voltage Electronics is the world's leading provider of custom designed and standard AC-DC and DC-DC high voltage power converters and Monoblock® X-Ray sources for medical, industrial, semiconductor, security, analytical, laboratory, and under-sea cable power-feed applications. With design, manufacturing and service facilities in the US, UK, Mexico, China and Japan, and direct sales offices throughout Europe, Asia and North America, Spellman is committed to supporting advanced system providers and their customers throughout the world.
About Stony Brook University
Stony Brook University, widely regarded as a SUNY flagship, is going far beyond the expectations of today's public universities. With more than 26,000 students, 2,700 faculty members, nearly 200,000 alumni, an academic medical center and 18 NCAA Division I athletic programs, it is one of only four University Center campuses in the State University of New York (SUNY) system. The University embraces its mission to provide comprehensive undergraduate, graduate, and professional education of the highest quality, and has been ranked among the top 35 public universities in the nation by U.S. News & World Report. Fostering a commitment to academic research and intellectual endeavors, Stony Brook's membership in the Association of American Universities (AAU) places it among the top 65 research institutions in North America. The University's distinguished faculty have earned esteemed awards such as the Nobel Prize, Pulitzer Prize, Indianapolis Prize for animal conservation, Abel Prize and the inaugural Breakthrough Prize in Mathematics. Part of the management team of Brookhaven National Laboratory of the U.S. Department of Energy, Stony Brook is one of only eight universities that has a role in running a national laboratory. Providing economic growth for neighboring communities and the wider geographic region, the University totals an impressive $7.23 billion in increased economic output on Long Island. Follow us on Facebook and Twitter(@stonybrooku).
Spellman contact: Suzanne Muller, smuller@spellmanhv.com
Stony Brook University contact: Betsy Craz, elizabeth.craz@stonybrook.edu
Dr Fang Luo, Ph.D.: feng.luo@stonybrook.edu
Dr. Fang Luo, Ph.D., LinkedIn: https://www.linkedin.com/in/fang-luo-a69b7b24/