Spellman's XRB80PN100HR Now Available with "Smart" Features
October 13, 2020
Hauppauge, New York – Spellman High Voltage Electronics Corporation, the world's largest independent manufacturer of custom high voltage power conversion products, announces that our powerhouse XRB80PN100HR will be offered with the optional integration of "smart" features – data logging and firmware controlled seasoning. The product also will come with a precedent setting three-year warranty.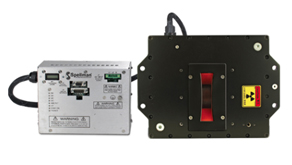 Spellman's XRB80PN100HR Monoblock® X-Ray source is designed for OEM applications powering its internal Bipolar X-Ray tube up to 80kV at 100W. Features like universal input, small package size and a standard RS-232 digital interface, as well as the new option for "smart" features, simplify integrating this Monoblock® into your X-Ray system. The XRB80HR is available either with fan shaped (standard) or (optional) cone shaped beam geometries. Proprietary emission control circuitry provides excellent regulation of X-Ray tube current, along with outstanding stability performance. The XRB80PN100HR is designed for long field life.
The new optional offerings of data logging and firmware controlled seasoning enhance this already strong product. Data logging (or the machine's "black box") captures data on fault events and non-fault events. Fault events will turn off the high voltage. And every unit comes with an initial seasoning table, or customers can set their own. The unit knows when it's been turned on, off and hours on the X-Ray tube, so proper maintenance can be customized to your specific Monoblock®.
Typical applications:
X-Ray Scanning
Thickness Measurement
Food Inspection
Fill Level Confirmation
Parcel Inspection
Detailed technical information and datasheet on the XRB80PN100HR Series can be found here.
Information on Spellman and our wide range of high voltage products is available by contacting sales@spellmanhv.com or by visiting Spellman's website: www.spellmanhv.com
Spellman High Voltage Electronics is the world's leading provider of custom designed and standard AC-DC and DC-DC high voltage power converters and Monoblock® X-Ray sources for medical, industrial, semiconductor, security, analytical, laboratory, and under-sea cable power-feed applications. With design, manufacturing and service facilities in the US, UK, Mexico, China and Japan, and direct sales offices throughout Europe, Asia and North America, Spellman is committed to supporting advanced system providers and their customers throughout the world.