Spellman's Introduces New High Performance High Efficiency MPD Series High Voltage Power Supply
October 09, 2019
Spellman High Voltage Electronics Corp, the world's leading high voltage power supply, X-Ray generator and Monoblock® X-Ray source manufacturer, announces the introduction of the new high performance high efficiency MPD series of high voltage 10 Watt modules that provide output voltages ranging from 2.5kV to 20kV. Designed with Spellman's hybrid topology of linear and switch mode power conversion techniques delivering lower noise with higher efficiency, the MPD series produces excellent ripple and stability performance specifications from a compact footprint.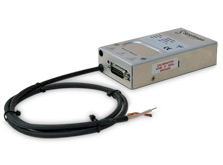 The MPD evolved from the highly successful MPS series, implemented by hundreds of customers for a wide variety of applications in industrial precision high voltage modules. Currently the MPS 10W is available in 10 voltage versions from 1kV to 35kV, and offers all around exceptional performance in a small module. But in listening to the voice of the customer, particularly regarding pushing performance boundaries, Spellman designed a replacement for the MP Series, developing a surface mount assembly and reducing the size of the units considerably, and adding a more practical D-Type connector.
The MPD series features a differential amplifier input for the voltage programming signal to improve immunity from external system noise and address any offset issues. A fully featured remote user interface is provided via 15-pin D-type connector as well as RS-232/RS-485 serial interface. The unit can be full analog or full digital control defined by interface connector links. Spellman's proprietary HV technology coupled with SMT circuitry results in an ultra-compact and lightweight module that is available as either a positive or negative supply that is ideal for OEM applications.

Stability:
MPD Stability after 1 hour warm up
10ppm per hour
25ppm per 8 hours
500ppm per 1000 hours
Typical Applications include Photomultiplier Tubes, Electrostatic Printing, Electron and Ion Beams, Scintillators, Electron Multiplier Detectors, Mass Spectrometry, Microchannel Plate Detectors, Electrostatic Lenses, and Nuclear Instruments.
Detailed Information Available
Detailed technical information and datasheets on these or any of Spellman's wide range of high voltage products is available by contacting sales@spellmanhv.com or by visiting Spellman's website: www.spellmanhv.com.
Spellman High Voltage Electronics is the world's leading provider of custom designed and standard AC-DC and DC-DC high voltage power converters and Monoblock® X-Ray sources for medical, industrial, semiconductor, security, analytical, laboratory, and under-sea cable power-feed applications. With design, manufacturing and service facilities in the US, UK, Mexico, China and Japan, and direct sales offices throughout Europe, Asia and North America, Spellman is committed to supporting advanced system providers and their customers throughout the world.