Spellman to Showcase the Electrostatic Chuck and E-Beam Evaporation High Voltage Power Supplies at Semicon 2019 in July
June 26, 2019
Spellman High Voltage Electronics Corporation, the world's largest independent manufacturer of custom high voltage power conversion products, announces that it will exhibit at SemiCon West 2019 from July 9-11 in San Francisco, CA. Spellman's booth number will be #1765.
This year, Spellman will highlight their electrostatic chuck (E-chuck) high voltage power supplies for the semiconductor industry, as well as on the EVA Series which is specifically designed for demanding electron beam coating applications. Spellman's products are world renowned for their high performance, superior value and best overall design. Spellman sales engineers will be on-hand to answer technical questions on high voltage power supplies or to provide quotations for specific models.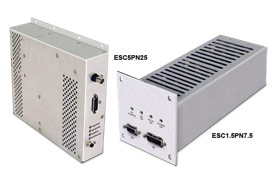 Electrostatic Chuck High Voltage Supply
Spellman's ESC Series of electrostatic chuck power supplies provide stable and accurate voltages required for electrostatic chuck wafer processing applications. Versions are available with features such as ground referenced reversible outputs and true floating bipolar outputs associated floating center tap point. Comprehensive diagnostic circuitry monitors power supply functionality and communicates status data to the user interface. Spellman's ESC Series power supplies are housed in compact, lightweight packages designed for OEM installations requiring minimal system footprint space.
E-Beam Evaporation High Voltage Power Supply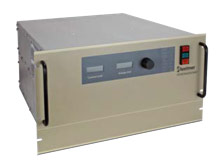 Designed for demanding electron beam coating applications, Spellman's EVA Series contains a full featured front panel providing local control, while an extensive analog interface allows remote capability. The included Ethernet and RS-232 digital interfaces simplify integrating the EVA into your system design.
The EVA's robust IGBT inverter design is inherently fault tolerant. The proprietary low capacitance, low stored energy high voltage output section is ideal for dynamic load and fault conditions encountered in coating applications. Fast arc recovery times (<2ms) minimize process interruptions. Many operational parameters can be configured by the user to suit their particular requirements. Additionally, the EVA can support optional one, two or three filament gun supply channels providing unprecedented flexibility and cost effectiveness.
SEMI is the global industry association serving the manufacturing supply chain for the micro- and nano-electronics industries, including: Semiconductors, Photovoltaics (PV), High-Brightness LED, Flat Panel Display (FPD), micro-electromechanical systems (MEMS), printed and flexible electronics, and related micro- and nano-electronics.

Spellman High Voltage Electronics is the world's leading provider of high performance, custom and standard DC high voltage power converters and Monoblock® X-Ray sources for medical, industrial, semiconductor, security, analytical, laboratory and under-sea cable power-feed applications. As a global supplier with strategically located design and manufacturing facilities in North America, Europe and Asia, Spellman is committed to providing best-in-class support to OEM customers and end-users throughout the world.
Additional information on Spellman and their wide range of high voltage products is available at: spellmanhv.com