Spellman to Exhibit at MEDICA 2018 in Dusseldorf, Germany
October 26, 2018
Hauppauge New York – Spellman High Voltage Electronics Corporation, the world's leading manufacturer of custom high voltage power conversion products, announces it will exhibit at the upcoming MEDICA, one of the world's largest medical trade fairs in Düsseldorf, Germany, November 12-15, 2018.
The exhibit will include Spellman's CT, Mammography and Bone Densitometry X-Ray generators, Monoblock® X-Ray sources and the high frequency generators Editor HFe 401-801 for radiography and fluoroscopy.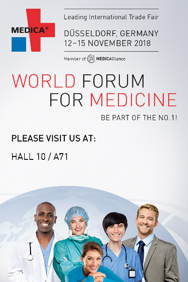 Spellman High Voltage Electronics GmbH will be located at Hall #10, booth #A71.
More than 130,000 visitors and over 4,000 exhibitors from 70 countries are expected to attend the MEDICA. The exhibition area covers 115.000 m² of floor space and 17 exhibitor halls. The coupling of the product show with international congresses, forums, as well as expert workshops, and the exchange of professional views make MEDICA into a meeting point for international professionals from various fields in the medical sector.
For further information on attending the MEDICA, go to http://www.medica-tradefair.com/.
Spellman High Voltage Electronics is the world's leading provider of custom designed and standard AC-DC and DC-DC high voltage power converters and Monoblock® X-Ray sources for medical, industrial, semiconductor, security, analytical, laboratory, and under-sea cable power-feed applications. With design, manufacturing and service facilities in the US, UK, Mexico, China and Japan, and direct sales offices throughout Europe, Asia and North America, Spellman is committed to supporting advanced system providers and their customers throughout the world.