Spellman Sponsored Clean Tech Competition Selects Winner of $10,000 International Science Prize
July 19, 2018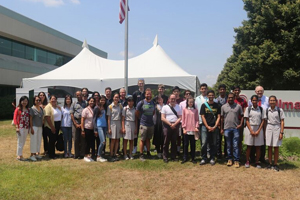 The 8th Annual Clean Tech Competition, developed by the Rockville Centre based Center for Science Teaching and Learning, (CSTL), concluded on Thursday, July 12th at Stony Brook University's Wang Center. It was the second year Spellman sponsored the competition and the second year the finals were hosted by Stony Brook University.
The Spellman HV Electronics Clean Tech Competition is the only STEM competition with a focus on using clean technology to solve environmental challenges. The 10 international finalist teams presented their STEM-based solutions for climate change after beating out a record number of almost 550 teams from 39 countries to vie for the top three awards–$10,000 for first place, $7,000 for second and $5,000 for third. In addition to the $10,000 top prize, the winning team has the opportunity this year to attend and present at The World Congress on Climate Change in Rome, Italy in September.
The day before final judging, Spellman hosted the finalists at their Hauppauge headquarters, giving the students and their parents, teachers and guardians the chance to visit manufacturing facilities and see science in action – something high school students rarely get the opportunity to see. The students were welcomed under the tent by Dr. Loren Skeist, President of Spellman and sponsor of the competition. Representative product posters as well as actual products were set out for display, with several engineers available to answer students' questions. After lunch, there were brief presentations, followed by personal tours of the Hauppauge facility. The students were extremely engaged, asking a lot of questions both in the tent and on their tours.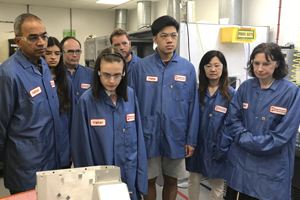 According to Dr. Loren Skeist, President of Spellman High Voltage and sponsor of the competition, "Solving the challenges of our environment will require creative and innovative solutions from everywhere around the world. The innovative thinking and dedication of these young people is needed now more than ever. The fact that almost 550 teams from all over the globe submitted project ideas to this competition makes me optimistic about the future, not only of science, but of our planet."
The day of competition started with the students presenting their projects to the three judges. After lunch, there was a "Shark Tank" type presentation by the students to another three judge panel, who asked a number of questions of each of them. Later, a Patent Attorney spoke to the students about how to protect their inventions, followed by the announcement of the awards.
"Stony Brook University was proud to host the Clean Tech Finals. The deep level of research and creativity presented by the high school finalists was impressive and these students are poised to help the world solve major environmental issues," said Joan Dickinson, MA, Director Community Relations of Stony Brook University.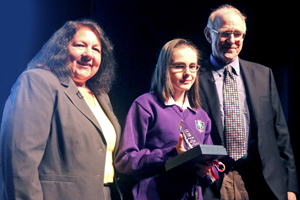 Third place was awarded to Eilise Ireland, Fifth Form (Jr), Maria Regina College (HS), County Cork, Ireland, who created a project on a personal scale. Her project explored rainwater as a source of electricity generation for individual households, reducing the overall use of fossil fuels. Her working scale model was made of completely recycled materials.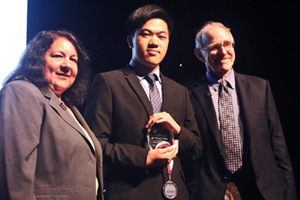 Second place was awarded to Benjamin Liao, a Senior from Henry M. Gunn High School in Palo Alto, CA. His project utilized thermochromic roof coatings, a combination of paint and thermochromic pigment, which changes color in response to temperature - trapping heat on colder days and reflecting it on warmer ones. This would reduce the need for heating and cooling systems, both of which are major greenhouse gas producers.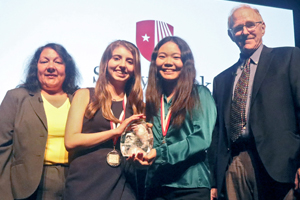 First place was awarded to Audrey Shine of JFK High School Plainview/Old Bethpage & Danielle Kelly of Friends Academy, Locust Valley, NY, both Juniors. Their project focused on improving the performance of hydrogen fuel cells through incorporating graphene oxide into layers of the fuel cell. "Clean Tech is more than just a competition – it is a once-in-a-lifetime opportunity to collaborate with young scientists around the globe. I am incredibly honored and grateful to receive the top award," said winner Audrey Shine. Her partner Danielle Kelly added, "Clean Tech provided us with an amazing opportunity to interact with students from around the globe. Winning was incredible, and I am so grateful for the honor, but the true value of the experience was collaborating internationally to solve the pressing and universal issue of climate change".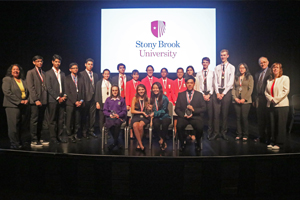 "All of the students who participated in the finals demonstrated their creativity and understanding of STEM principals. These young people are a shining example of the importance and the potential of STEM. With Spellman HV Electronics, we continue to show government leaders, educators, parents and the business community the importance of STEM and the need to embrace new STEM education initiatives," said Dr. Ray Ann Havasy, Director of The Center for Science Teaching & Learning.
The 2018 Spellman High Voltage Electronics Clean Tech Competition is hosted and managed by Rockville Centre, New York-based Center for Science Teaching & Learning (CSTL) and sponsored by Spellman High Voltage Electronics Corp. CSTL is a not-for-profit organization with a mission of encouraging science learning and literacy.
For broadcast coverage of the event, go to Spellman's YouTube page and click on FIOS1 Clean Tech Event.