Spellman High Voltage Electronics Receives the Prestigious "Excellence Award for Suppliers" from Canon Japan
June 22, 2018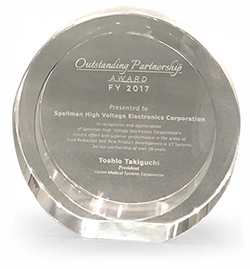 Tokyo, Japan – Spellman High Voltage Electronics Corporation, the world's largest independent manufacturer of custom high voltage power conversion products and X-ray sources, announces that it was one of eight companies to receive the prestigious "Excellence Award for Suppliers" from Canon Medical (formerly Toshiba Medical) in Japan.
The award, presented at a supplier meeting in Japan, recognizes the Company's top suppliers for the outstanding technology, quality, support and value they deliver. Spellman's National Sales Manager for Japan, Junichi Enomoto, commented: "We are very thankful for this great honor. Every single member of the Spellman team understands our direct connection to the customer. We know that everything we do, no matter how small, adds value for them. We live this every day".
Spellman's VP of Sales Asia, Robert Frankland commented: "It is truly an honor to receive this Excellence Award from Canon, one of our greatest customers and partners. Fundamentally we care about our customers. We work with them from inception through the maturation process and all the cycles that go into product development, moving to mass production and ultimately into service and support".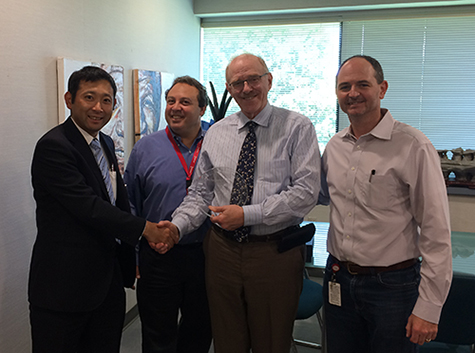 Photo: (Spellman Officers receiving English language version of the award)
Canon is one of the World's largest medical imaging solution providers. Canon Medical offers a full range of diagnostic medical imaging solutions including CT, MR, X-Ray, Ultrasound and Healthcare Informatics across the globe. Alongside the medical, academic and research communities, Canon strives to create industry-leading solutions that deliver an enriched quality of life.
Spellman High Voltage Electronics is the world's leading independent manufacturer of high voltage power supplies, DC-DC converters and power systems for medical and industrial applications, semiconductor manufacturing, scientific instrumentation, telecommunications, X-ray and automatic test equipment. We specialize in providing custom designs to suit unique requirements. Spellman is headquartered in the U.S. and has facilities in the Mexico, Europe, Japan and China that provide design, manufacturing and service to our customers throughout the world.
Information on Spellman and our many products is available by visiting our website: www.spellmanhv.com.