Spellman High Voltage Electronics Announces The XRBHR X-Ray Source For The Food & Beverage Inspection Industry
The New XRBHR X-Ray Source Extends our Range of High Reliability Monoblocks® from 80kV-100W up to 500W, Now Offered with a Standard Three-Year Warranty
June 12, 2018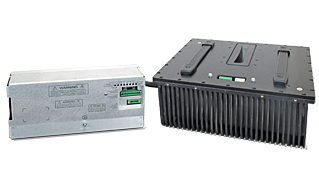 Hauppauge, New York – Spellman High Voltage Electronics Corporation, the world's largest independent manufacturer of custom high voltage power conversion products, announces expanded support for our food and beverage inspection industry customers. The introduction of the new XRBHR, combined with the XRB80HR, allows us to provide a full range of compact and lightweight x-ray sources that can be mounted in any physical orientation, from 80kV-100W all the way up to 500W. Additionally, all units are sold with a standard three-year warranty.
Spellman's XRBHR series of Monoblock® x-ray sources are designed for OEM applications powering their internal Bipolar x-ray tube to 80kV and 100kV at power levels of 100W, 210W 350W and 500W. Features such as universal input, compact package size and standard RS-232 or Ethernet digital interface simplify integration of any XRBHR model into a customer's x-ray system. These intelligent power supplies monitor and log over two dozen operations, using a real time clock to record total x-ray ON time. The x-ray ON time is accessible via either the RS-232 or Ethernet digital interface.
Each XRBHR model is available with fan (standard) or cone (optional) beam geometries. Proprietary emission control circuitry provides excellent regulation of x-ray tube current, along with outstanding stability performance. The XRBHR Series is designed for long field life and available with a standard three-year warranty!
Advantages of the XRBHR include the following:
Compact size and ability to be mounted in any physical orientation
Smart controller featuring onboard RTC for time keeping, critical parameter data logging, fault logging and auto seasoning profiles
Universal power factor corrected input
Standard RS232 & Ethernet digital interface
Standard beam geometry and focal spot options including symmetrical 80° fan and 40° cone beam, 0.8mm & 0.5mm focal spot 80kV, 300W Beryllium window option available – consult factory for details
"These scalable, smart, highly reliable x-ray sources now enable us to offer the full spectrum of power needs to the food and beverage inspection industry, from 80kV at 100W all the way up to 500W," said Dave Burgess, Chief Marketing Officer at Spellman High Voltage. "This is the crux of our expanded support of our customers in this area. And our three-year warranty – the best in the industry – is our way of letting them know that Spellman is building on our technical expertise by constantly improving our service commitment to them."
Information on Spellman and our wide range of high voltage products is available by contacting sales@spellmanhv.com or by visiting Spellman's website: www.spellmanhv.com
Spellman High Voltage Electronics is the world's leading provider of custom designed and standard AC-DC and DC-DC high voltage power converters and Monoblock® X-Ray sources for medical, industrial, semiconductor, security, analytical, laboratory, and under-sea cable power-feed applications. With design, manufacturing and service facilities in the US, UK, Mexico, China and Japan, and direct sales offices throughout Europe, Asia and North America, Spellman is committed to supporting advanced system providers and their customers throughout the world.