Spellman Holds Ribbon Cutting Ceremony at New Suzhou Industrial Park Building
Suzhou Facility Expansion Culminates Record Year in Sales for Spellman's Asian Operations
May 26, 2017
Suzhou Industrial Park, PRC – Spellman High Voltage Electronics Corporation, the world's largest independent manufacturer of custom high voltage power conversion products and X-ray sources, announces the expansion of its Suzhou, China factory, now ISO13485 certified.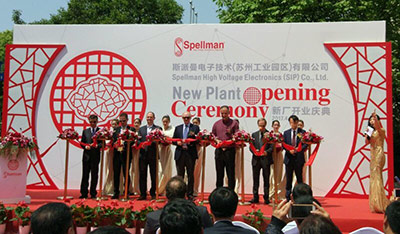 The expansion, which increases the existing 3,350 square meters (36,000 sq. ft) facility to 5,060 square meters (50,000 sq. ft.), provides additional working space for Engineering, Operations, Service and Sales.

To commemorate this event, a ribbon cutting ceremony was held on April 28, 2017 and was attended by Spellman executives from around the world, as well as Asia Pacific staff, honored customers and key suppliers.

Spellman's President, Dr. Loren Skeist commented: "the new Suzhou facility reinforces our commitment to our local and global customers, providing strong technical support, with strategically located production and design centers of excellence".

The expanded facility will continue to serve as Spellman headquarters in the Asia Pacific region. The Company's presence in the region includes offices in Japan, Korea and India.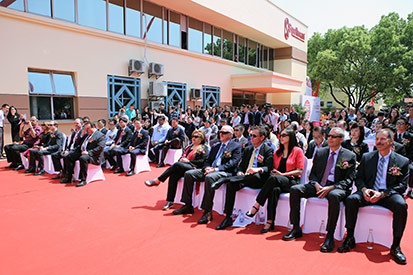 Information on Spellman and our many other products is available by visiting our website: www.spellmanhv.com.

Spellman High Voltage Electronics is the world's leading independent manufacturer of high voltage power supplies, DC-DC converters and power systems for medical and industrial applications, semiconductor manufacturing, scientific instrumentation, telecommunications, X-ray and automatic test equipment. We specialize in providing custom designs to suit unique requirements. Spellman is headquartered in the U.S. and has facilities in the Mexico, Europe, Japan and China that provide design, manufacturing and service to our customers throughout the world.