Spellman Receives Best Supplier Award From Agfa Healthcare at 2016 RSNA
December 06, 2016
(Chicago, 27 November 2016) Spellman High Voltage Electronics Corp was recognized today as Agfa Healthcare's Best Supplier of 2016. This prestigious award was presented today at the annual Radiological Society of North America's technical conference in Chicago, Illinois.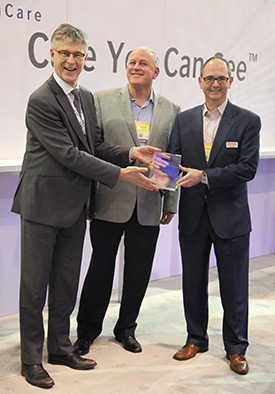 Chosen from a group of 39 suppliers, Spellman was selected for this award based on their record of quality, delivery, cost and service. In addition, a cross-functional stakeholder survey was carried out, and the resulting scores taken into consideration. Results were reviewed by an awards board comprised of Agfa HealthCare's Management Committee.
Noted by Agfa for their innovation and cutting-edge power supplies for medical imaging applications, Spellman provides Agfa with X-Ray generators for their digital radiography (DR) imaging products. Agfa's DR imaging solutions have been recognized as "best of breed" by Frost and Sullivan in their Best Practices Award Report.
On receiving this honor, David Burgess, Chief Marketing and Engineering Officer of Spellman, commented "We are proud to be a valued Agfa partner and to have the efforts of our sales, engineering and operations teams recognized by one of the world's leading diagnostic imaging and healthcare technology companies."
Additional information on Spellman and their wide range of high voltage products is available at: www.spellmanhv.com
For a link to Agfa's announcement, click here
Spellman High Voltage Electronics is the world's leading provider of high performance, custom and standard DC high voltage power converters and Monoblock® X-Ray sources for medical, industrial, semiconductor, security, analytical, laboratory and under-sea cable power-feed applications. As a global supplier with strategically located design and manufacturing facilities in North America, Europe and Asia, Spellman is committed to providing best-in-class support to OEM customers and end-users throughout the world.