Spellman High Voltage Adds the MXR Series To Its Extensive Array of Mass Spectrometry Power Supplies
August 24, 2016
Spellman High Voltage Electronics Corporation (Hauppauge, NY) is pleased to announce the immediate availability of their new MXR Series high voltage DC power supplies. Created especially for applications requiring fast output polarity reversing capability, the MXR supplies can be hot switched via a logic level signal and will settle to 3ppm in two seconds or less. This makes the MXR's ideal for use in Mass Spectrometry and related applications like electron microscopes, security detection systems, Dynodes, sample ionization, capillary electrophoresis and electrostatic printing.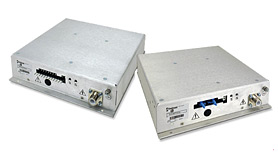 The MXR's provide an output of 20kV @ 300uA or 30kV @ 300uA in a compact 2.05" H X 8.47" W X 9.13"D (52mm X 215mm X 230mm) modular package. Their vacuum encapsulated high voltage output section isolates critical components from environmental variables insuring reliable, corona free operation.
The module's output can be controlled remotely through customer supplied analog signals. Voltage and current test points allow convenient power supply monitoring. An optional RS-232 digital interface is also available. Excellent ripple, regulation, stability and accuracy specifications make the MXR well suited for demanding precision requirements. Customization is possible for specific OEM requirements.
Technical literature and information on the MXR is available at: www.spellmanhv.com/mxr
Information on Spellman and our many other products is available by visiting our website: www.spellmanhv.com Or by calling +1-631-630-3000.

Spellman High Voltage Electronics is the worlds leading independent manufacturer of high voltage power supplies, DC-DC converters and power systems for medical and industrial applications, semiconductor manufacturing, scientific instrumentation, telecommunications, X-ray and automatic test equipment. We specialize in providing custom designs to suit unique requirements. Spellman is headquartered in the U.S. and has facilities in the Mexico, Europe, Japan and China that provide design, manufacturing and service to our customers throughout the world.