Spellman High Voltage Celebrates Twenty Years in Japan
January 01, 2014
Tokyo and New York – This year, Spellman High Voltage Electronics Corporation celebrates its 20th year of operation in Japan. Located in the Tokyo area with a satellite sales office in Osaka, Spellman Japan provides sales and technical support via its multi-lingual staff to customers and partners throughout the region.
Recognizing the market's potential, Spellman established their office in 1994 to better collaborate with and support its growing customer base. With only a handful of customers in the beginning, today they count over 200 local firms as their valued partners.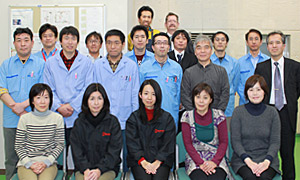 "It has been an honor to work with these many fine firms over the past 20 years", commented Dale Scholle, General Manager of Spellman Japan. "Our ability to understand and meet their requirements has resulted in our mutual success."
With modern and well equipped facilities, the group provides test and repair services for Spellman's broad range of power conversion and X-Ray source products. Its local presence and inventory of spare parts allows for quick response to OEM customers and end-users requiring the highest levels of support. In addition, Spellman's professional sales staff provides commercial and logistics support for products manufactured at Spellman's many global locations.
"We take pride in providing best in class support to our partners in the region" said Company Vice President, Eric Marko, who established Spellman's office in Japan 20 years ago. "As a result, they have come to trust Spellman as their preferred supplier of these critical, highly engineered products."
Information on Spellman Japan can be obtained at www.spellmanhv.co.jp or direct by calling the Company at +81(0)48-447-6500.
Spellman High Voltage Electronics is the world's leading provider of high performance, custom and standard DC high voltage power converters and Monoblock® X-Ray sources for medical, industrial, semiconductor, security, analytical, laboratory and under-sea cable power-feed applications. As a global supplier with strategically located design and manufacturing facilities in North America, Europe and Asia, Spellman is committed to providing best-in-class support to OEM customers and end-users throughout the world.
Additional information on Spellman High Voltage can be found at www.spellmanhv.com or by calling their Headquarters at +1.631.630.3000