Spellman Expands its United Kingdom Operations
January 02, 2013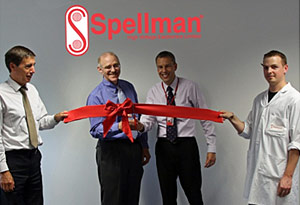 Hauppauge New York – Spellman High Voltage Electronics Corporation, the world's leading manufacturer of custom high voltage power conversion products, announces that it has completed an extension of its European Headquarters located in Pulborough, West Sussex (Spellman High Voltage Electronics Co., Ltd).
Spellman UK has long been the global high voltage leader's Center of Excellence for high precision, well regulated high voltage supplies for the analytical instrumentation industries. Our continued growth in Europe and numerous new product introductions for the global market has created the need for additional space. Spellman added a 604 m² (6,500 ft²) extension to the existing 1,950 m² (21,000 ft²) facility.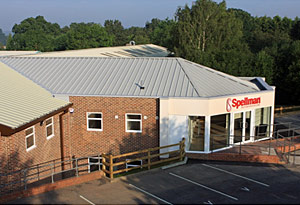 In addition to the physical building extension, Spellman added a temperature controlled room for testing of sensitive, high performance products, a 150kW diesel back-up generator, and SAN data storage with replication capability of Spellman's global data for disaster resilience. Specialty flooring (dissipative & insulated) has been added for handling of static sensitive devices and safely testing of high voltage products.
According to Dennis Bay, Managing Director, of Spellman's UK Operations: "Over the past 10 years our UK operation has enjoyed amazing growth. Spellman's European Headquarters houses engineering, assembly, test, sales, customer support and administration. Spellman UK has called Pulborough its "home" for over twenty years and we feel we have been a positive force in the local economy. We have proven that high-tech can be designed, manufactured and exported globally from the UK. We are proud to contribute to Spellman's global presence and business continuity plan while remaining committed to delivering the most reliable high voltage technology for our customer's critical applications." Bay added, "Our modern new facility with expanded physical and process capabilities leaves us well-positioned to continue as Spellman's European anchor and launching pad for further growth."
Information on Spellman and their wide range of high voltage products is available by calling +1-631-630-3000, or by visiting their website:
www.spellmanhv.com

Spellman High Voltage Electronics is the world's leading provider of custom designed and standard AC-DC and DC-DC high voltage power converters and Monoblock® X-Ray sources for medical, industrial, semiconductor, security, analytical, laboratory, and under-sea cable power-feed applications. With design, manufacturing and service facilities in the US, UK, Mexico, China and Japan, and direct sales offices throughout Europe, Asia and North America, Spellman is committed to supporting advanced system providers and their customers throughout the world.