Spellman's DXM X-Ray Generator Series Extended to 1200 Watts
September 27, 2010
September 27, 2010 -- Spellman High Voltage Electronics Corporation (Hauppauge, NY) announces the extension of the versatile DXM X-Ray generator series to 1200W. The DXM product line offers high voltage output up to 70kV, a floating or ground-referenced filament power supply with emission control.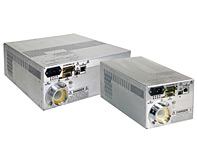 Power factor corrected AC input minimizes utility service input current and EMI concerns.
With its compact modular design and robust resonant-based inverter topology, the DXM provides excellent stability and is a cost effective alternative for X-Ray applications as diverse as plastics sorting, plating measurement, mineral analysis, fluorescence and diffraction.
A fast acting programmable voltage and current control loop and arc/short-circuit protection makes the DXM ideal for demanding applications and operating environments.
The DXM can be controlled via analog or any of three standard digital interfaces. A Visual Basic GUI is available for remote RS-232/USB operation. An Ethernet interface has an embedded applet for remote control and reconfiguration of options.
To obtain technical information on the DXM series, go to www.spellmanhv.com/products/DXM
Information on Spellman and their wide range of high voltage products is available by calling +1-631-630-3000, or by visiting their website: www.spellmanhv.com
Spellman High Voltage Electronics is the world's leading provider of custom designed and standard AC-DC and DC-DC high voltage power converters and Monoblock® X-Ray sources for medical, industrial, semiconductor, security, analytical, laboratory, and under-sea cable power-feed applications. With design, manufacturing and service facilities in the US, the UK, Mexico, China and Japan, Spellman supports advanced system providers and their customers throughout the world.