Spellman de Mexico Wins Prestigious Tamaulipas State Quality Award
December 14, 2010
December 14, 2010 – Hauppauge New York – Spellman High Voltage Electronics Corporation is proud to announce that its operation in Mexico (Spellman de Mexico S.A. de C.V.) has won the prestigious Tamaulipas State Quality Award in the Premio a la Calidad Tamaulipas 2010 Competition. A total of 500 companies from all regions of the state competed for the award and 30 made the finals in the Large Facility category. The quality award is the highest accolade for Quality and Continuous Improvement recognized by the Tamaulipas State organization.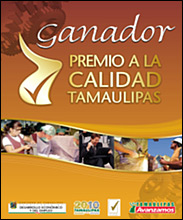 The Tamaulipas State Quality competition is a Government sponsored contest whose objective is to acknowledge those companies who develop, implement and maintain processes and systems that improve quality, productivity and efficiency.
The award was presented to Spellman by Tamaulipas State Governor Eugenio Hernandez on December 3, 2010 in Cd. Victoria City.
Spellman's ISO 9001:2008 and ISO 14001:2004 certified Mexican operations encompass two facilities with combined production space of over 150,000 sq. ft. and more than 700 skilled workers producing advanced, high-frequency, DC output high voltage power conversion products and systems.
Upon learning of the award, Spellman's President Dr. Loren Skeist stated: "The effort that went into winning this award recognizes the consistent focus over several years on continuous improvement of manufacturing processes, and further validates Spellman de Mexico's reputation as a Center of Manufacturing Quality and Delivery Excellence for our customers. This reputation is based not only on the high quality of the products themselves and the extraordinary efforts made to meet short lead-time and pull-in requests, but on personal observations of the openness, enthusiasm and understanding of staff in all areas and departments during customer audits and visits."
Information on other Spellman products is available by calling us at +1-631-630-3000, or by visiting our website: www.spellmanhv.com.
Spellman High Voltage Electronics is the world's leading provider of custom designed and standard AC-DC and DC-DC high voltage power converters for: medical, industrial, analytical, and security applications; semiconductor manufacturing; scientific instrumentation; and power feed systems for undersea cables. Spellman is headquartered in the U.S. and has facilities in Japan, Mexico, Europe, and China that provide design, manufacturing and service to our customers throughout the world.