Spellman de Mexico Breaks Ground for New Production Facility
December 17, 2010
December 17, 2010 – Hauppauge New York – Spellman High Voltage Electronics Corporation is proud to announce that its principal manufacturing center Spellman de Mexico S.A. de C.V. has just broken ground on the construction of a new, state-of-the-art production center in Matamoros.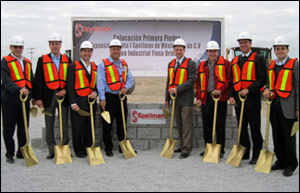 The 161,000 sq. ft. facility will be completed by December 2013.
Spellman's ISO 9001:2008 and ISO 14001:2004 certified Mexican operations encompass two facilities with combined production space of over 150,000 sq. ft. and more than 700 skilled workers producing advanced, high-frequency, DC output high voltage power conversion products and systems.
According to Ken Chandler, Spellman de Mexico's General Manager: "Today's ground breaking ceremony for the new plant marks a great achievement in the history of Spellman's Mexican operations, and is a testimony to the hard work, skill and enthusiasm of our employees. Today's event, following closely our winning the Tamaulipas State Quality Award, is a proud moment in our history."
Information on other Spellman products is available by calling us at +1-631-630-3000, or by visiting our website: www.spellmanhv.com.
Spellman High Voltage Electronics is the world's leading provider of custom designed and standard AC-DC and DC-DC high voltage power converters for: medical, industrial, analytical, and security applications; semiconductor manufacturing; scientific instrumentation; and power feed systems for undersea cables. Spellman is headquartered in the U.S. and has facilities in Japan, Mexico, Europe, and China that provide design, manufacturing and service to our customers throughout the world.