Spellman de Mexico Wins Prestigious State Quality Awards
April 06, 2009
April 6, 2009 – Hauppauge New York – Spellman High Voltage Electronics Corporation is proud to announce that on February 23, 2009, in Cd. Victoria, capital of Tamaulipas State, Mexico, its operations in Mexico – Spellman de Mexico S.A. de C.V. – were presented with two awards in the "Premio a la Calidad Tamaulipas 2008" Quality Award Competition. Spellman received its awards in the categories of Continuous Development and Contribution to Foreign Trade.
The "Premio a la Calidad Tamaulipas 2008" quality competition is a Government sponsored contest whose objective is to acknowledge companies registered in the State of Tamaulipas, who develop, implement and maintain processes and systems that increase their productivity and efficiency.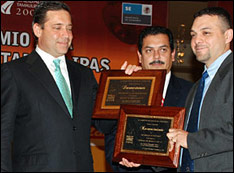 A total of 130 companies from all regions of the state competed for the State's prestigious Quality Award; 40% were from the Industrial Sector, 40% from the services sector, and 20% from the tourist sector. Joined by the head of the Mexican Institute of Competitiveness, Roberto Newell Garcia, and the
sub-director of the Institute of Evaluation for the National Quality Award, Yessica Chavarría Hernández, State Governor Eugenio Hernández Flores presided over the ceremony in which Spellman secured these two coveted awards.
Spellman's Mexican operations encompass two facilities; an 88,000 sq.-ft. top assembly and test facility, and a 37,500 sq.-ft. sub-assembly plant. Over 550 skilled workers between the two plants support Spellman's global manufacturing of advanced, high-frequency, DC output high voltage power conversion products. Upon receiving the awards, Spellman de Mexico General Manager, Ken Chandler, remarked: "These prizes reflect the deep commitment of so many people in Spellman de Mexico who strive each day to achieve excellence. Keep up the good work!"
Information on other Spellman products is available by calling us at +1-631-630-3000, or by visiting our website: www.spellmanhv.com. Spellman High Voltage Electronics is the world's leading provider of custom designed and standard AC-DC and DC-DC high voltage power converters for: medical, industrial, analytical, and security applications; semiconductor manufacturing; scientific instrumentation; and power feed systems for undersea cables. Spellman is headquartered in the U.S. and has facilities in Japan, Mexico, Europe, and China that provide design, manufacturing and service to our customers throughout the world.