New Modular Universal Input 300/600W High Voltage Power Supply
January 26, 2007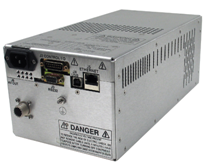 HAUPPAUGE, New York- January 26, 2007 -- Spellman High Voltage Electronics Corporation (Hauppauge, NY) announces the introduction of the SLM series of high voltage power supplies. These compact, cost effective, modular, high voltage power supplies were specifically designed for value focused, high performance, OEM applications. While occupying a much smaller volume than their full size rack mounted SL series counterparts, the SLM offers comparable specification and features.
Providing 300 or 600 watts of power in a range of output voltages from 1kV to 70kV, the SLM sets a new standard for space-saving, precision, modular high voltage power supplies. Positive or negative output polarities are available, the output made accessible via a detachable 10 foot shielded high voltage cable.
The SLM's power factor corrected AC input circuitry provides a wide range of input voltage capability while minimizing utility service input current requirements and EMI concerns. The SLM product family is CE compliant to European EMC 89/336/EEC and LV 73/23/EEC directives.
With its simple modular design, a robust resonant based inverter topology, and Spellman's proprietary high voltage packaging, the SLM is a cost effective power supply ideal for a variety of scientific, industrial and medical applications. The SLM offers fast acting programmable voltage and current control loops and is fully protected against arc and short circuit discharge conditions.
Control of the SLM can be achieved via a full feature analog interface, or any of the three standard digital interfaces provided. A VisualBasic GUI is made available for remote RS-232/USB operation; the Ethernet interface has an embedded applet for control. Many power supply options have been made available to the user and are fully configurable via the provided software.
Technical literature and additional information on the SLM Series High Voltage Power Supplies, as well as all other Spellman products, is available by contacting Spellman High Voltage at (631) 630-3000, or by visiting the product's technical specifications.
Spellman High Voltage Electronics is the world's leading independent manufacturer of high voltage DC power supplies, Monoblock® X-ray generators and power systems for medical and industrial applications, semiconductor manufacturing, scientific instrumentation, telecommunications, X-ray and automatic test equipment. We specialize in providing custom designs to suit unique requirements. Spellman is headquartered in the U.S. and has facilities in the U.K., Japan, China, and Mexico that provide design, manufacturing, and service to our customers throughout the world.