New 150kV @ 1200 Watt Cable-Connected High Voltage Power Supply
March 09, 2007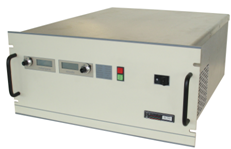 HAUPPAUGE, New York- March 9, 2007 -- Spellman High Voltage Electronics Corporation announces the extension of its popular and versatile SL series high voltage power supplies with the addition of the SL150kV. Standard input voltage is 220Vac, single phase, ±10%, with an optional 200Vac input available.
Configurable as positive, negative or reversible output polarity, this cable-connected, 8.75" (5U) rack-mounted unit provides 150kV at 1200 watts of power. The SL150kV's output is accessible via a detachable 10 ft shielded high voltage cable, simplifying high voltage system integration. The solid encapsulated high voltage output section isolates the affiliated circuitry from the environment, assuring a corona-free and maintenance-free power supply.
Front panel and remote interfacing features of the SL150kV are identical to the standard SL series. Digital metering and a comprehensive fault diagnostic display are provided, along with extensive remote control interfacing capability. The SL150kV offers fast acting, programmable voltage and current control loops and is fully protected against arc and short circuit discharge conditions. A variety of standard options are available to customize the unit for specific user requirements.
Real time arc monitoring, arc count, arc quench and re-ramp circuitry, along with durable resistive output limiting assemblies, protect both the power supply and the load during fault conditions. With its modular design, robust resonant-based inverter topology, and Spellman's proprietary high voltage packaging, the SL150kV is a reliable and compact power supply ideal for a variety of scientific and industrial applications.
Technical literature and additional information on the SL150kV rack-mounted power supply, as well as all other Spellman products, is available by contacting Spellman High Voltage at (631) 630-3000, or by visiting the product's technical specifications.
Spellman High Voltage Electronics is the world's leading independent manufacturer of high voltage DC power supplies, Monoblock® X-ray generators and power systems for medical and industrial applications, semiconductor manufacturing, scientific instrumentation, telecommunications, X-ray and automatic test equipment. We specialize in providing custom designs to suit unique requirements. Spellman is headquartered in the U.S. and has facilities in the U.K., Japan, China, and Mexico that provide design, manufacturing, and service to our customers throughout the world.