New High Voltage Power Supply Designed for Precision E-Beam Applications
November 01, 2006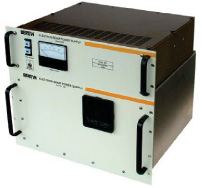 HAUPPAUGE, New York- October 5, 2006 -- Spellman High Voltage Electronics Corporation (Hauppauge, NY) announces the introduction of the VS100 high voltage power supply, specifically designed for precision electron beam applications like semiconductor nano-lithography, micro-optics and development mask work. Demanding performance specifications such as ultra low ripple (less than 75mVp-p, for 100kV @ 100uA), high stability and excellent regulation parameters make the VS100 uniquely configured as the preferred electron beam accelerator source when accuracy and reliability is paramount. A passive redundant, high voltage divider has been incorporated into the encapsulated high voltage output section.
The feedback signal generated by this second divider is isolated from the regulating control electronics circuitry. This feature alerts the user of any power supply output inconsistencies that might occur due to the unlikely occurrence of problems with the main regulating feedback divider circuitry.
The oil-free, solid encapsulated high voltage output section eliminates any user maintenance issues, while isolating the output circuits from environmental variables. Conservative high voltage packaging practices and generous component de-ratings eliminate any partial discharge concerns, providing an exceptionally stable high voltage output.
Technical literature and additional information on the VS100, as well as all other Spellman products, is available by contacting Spellman High Voltage at (631) 630-3000, or by visiting the product's technical specifications.
Spellman High Voltage Electronics is the world's leading independent manufacturer of high voltage DC power supplies, Monoblock® X-ray generators and power systems for medical and industrial applications, semiconductor manufacturing, scientific instrumentation, telecommunications, X-ray and automatic test equipment. We specialize in providing custom designs to suit unique requirements. Spellman is headquartered in the U.S. and has facilities in the U.K., Japan, China, and Mexico that provide design, manufacturing, and service to our customers throughout the world.