Mammography X-Ray Generators – Spellman High Voltage Electronics Corporation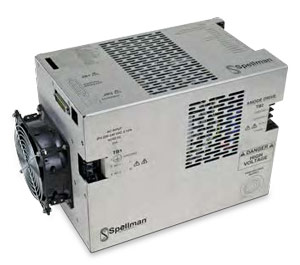 Spellman's X-Ray generators set the standard for compact, high performance Mammography applications. Microprocessor based SMT control circuitry provides your choice of USB, Ethernet or RS232 interfacing.
Spellman's proprietary pulse width modulated inverter topology allows for unprecedented efficiencies and power densities. A solid encapsulated high voltage section further reduces size and provides reliable, maintenance free operation.
The internal DC output, current regulated filament supply is controlled via sophisticated emission current regulation circuitry to provide accurate and stable X-Ray tube currents. A high speed starter complete with Boost and Brake functions is also incorporated into this efficient, space saving X-Ray generator for mammography applications.
To receive a price quote on Spellman's mammography X-Ray generators, contact your Spellman High Voltage Electronics Corp's sales representative.