Spellman High Voltage Electronics Corporation - Bone Densitometry Monoblock® X-ray Sources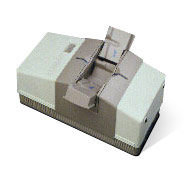 Monoblock® X-Ray Sources for Bone Densitometry Applications
Spellman has long been proud to play an important role in designing products that help improve the delivery of medical care. We developed a power supply with an integrated X-Ray tube, known as a Monoblock®, for a company specializing in bone densitometry equipment.
Extremely compact, it delivers X-Rays for a bone densitometer that can be located in a physician's office where space is at a premium. Spellman High Voltage Electronics Corp's Monoblock® X-Ray sources help provide cost effective, fast, high quality diagnostic information, enabling new treatments for osteoporosis and other bone diseases to be more widely utilized.
Spellman looks forward to further opportunities to work with companies seeking to improve technologies serving human health. Please contact us for a price quote for one of Spellman's bone densitometry Monoblock® X-Ray sources.
(Photo courtesy of Lunar Corporation)