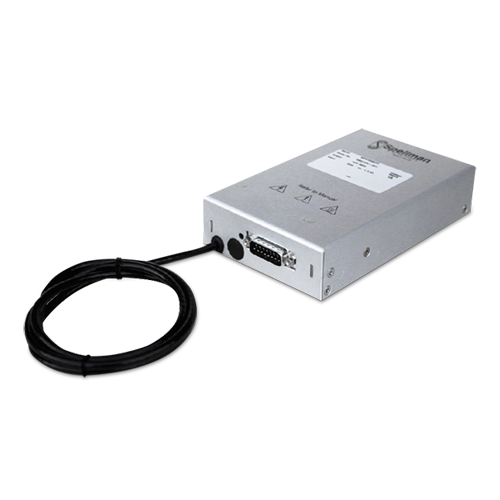 MPS20W 시리즈
Differential Input for Voltage Program
Voltage and Current Controls
Voltage and Current Monitors
High Stability
Ultra Low Ripple and Noise
High Voltage Enable Control
*Note: All specifications are subject to change without notice. Please consult the English PDF version of this datasheet for the most up-to-date revision.

DC-DC 20W 고전압 전원 공급 장치
Spellman의 새로운 MPS20W 시리즈는 1kV ~ 10kV 범위의 출력 전압을 제공하는 고전압 20W 모듈 제품군입니다.
MPS20W 시리즈는 Spellman의 선형 및 스위칭 모드 전력 변환 기술의 하이브리드 토폴로지로 설계된 고성능 제품으로 낮은 노이즈와 높은 효율을 제공합니다. MPS20W 시리즈는 작은 공간에서 탁월한 리플 및 안정성을 제공합니다. 또한 MPS20W 시리즈는 외부 시스템 잡음으로부터의 내성을 향상시키고 오프셋 문제를 해결하기 위해 전압 프로그래밍 신호를위한 차동입력을 표준으로 제공합니다. 또한 출력 전압은 내부 가변저항으로 사전 설정 될 수 있습니다. 모든 기능을 갖춘 원격 사용자 인터페이스가 15 핀 D 형 커넥터를 통해 제공됩니다. 출력 전압은 아크 및 단락 보호되며 전원 입력에는 전류 제한기가 장착되어 있습니다.
Spellman의 독점적 인 HV 기술과 SMT 회로를 결합하면 초소형 및 경량 모듈이 가능해지고 OEM 제품에 이상적인 양극 또는 음극출력의 공급 장치로 사용할 수 있습니다.
일반적인 응용 분야 :
광전자 증배관
마이크로채널 플레이트 검출기
신틸레이터
질량 분광기
전자 및 이온 빔
정전기 렌즈
원자력관련 장비
정전기 인쇄

(Ref. 128064-001 REV. F)
Input Voltage:
+24 Vdc, ±2Vdc
Input Current:
≤ 1.5 amps
Output Voltage:
5 models available from 1kV to 10kV
Output Polarity:
Positive or negative, specify at time of order
Power:
≤ 20 watts
Voltage Regulation:
Line: ≤ 0.001% of rated output voltage over specified input voltage
Load: ≤ 0.001% of rated output voltage for full load change
Current Regulation (Vcc Option):
Line: ≤ 0.01% for 1V input voltage change under any load conditions
Load: ≤ 0.001% for 0 to full load
Ripple:
See "model selection" table
Stability:
≤ 0.01% per hour, 0.02% per 8 hours after 1.0 hour warm up period.
Temperature Coefficient:
≤ 25ppm per degree C
Environmental:
Temperature Range:
Operating: 0°C to 50°C
Storage: -35°C to 85°C
Humidity:
20% to 85% RH, non-condensing
Cooling:
Convection cooled
Dimensions:
1.31. H X 3.74. W X 5.91. D (33.5mm x 95mm x 150mm)
Weight:
1-2kV: 15.17 oz. (430g)
3-10kV: 25.76 oz. (730g)
Interface Connector:
15 pin male D connector
Output Connector:
A captive 39.4. (1 meter) long shielded HV cable is provided
Regulatory Approvals:
Compliant to EEC EMC Directive. Compliant to EEC Low Voltage Directive.
MPS20W SELECTION TABLE
| Model | Output Voltage | Output Current | Ripple (Vpp) |
| --- | --- | --- | --- |
| MPS1*20/24 | 0-1kV | 20mA | <25mV |
| MPS2*20/24 | 0-2kV | 10 mA | <50mV |
| MPS3*20/24 | 0-3kV | 6.67mA | <75mV |
| MPS5*20/24 | 0-5kV | 4mA | <125mV |
| MPS10*20/24 | 0-10kV | 2mA | <125mV |
| MPS15*20/24 | 0-15kV | 1.33mA | <375mV |
| MPS20*20/24 | 0-20kV | 1mA | <500mV |
*Specify "P" for positive polarity or "N" for negative polarity. Custom units available.
MPS20W ANALOG INTERFACE— 15 PIN D CONNECTOR
Pin
Signal
Signal Parameters
1
Power/Signal Ground
Ground
2
+24Vdc Input
+24Vdc @ 1.5 amp maximum
3
Voltage Monitor Output
0 to 10Vdc=0 to 100% Rated Output, Zout =2.2kΩ
4
Local Programming Potentiometer Wiper Output
Potentiometer connected to +10Vdc and
Ground, 0 to 10Vdc adjustable wiper output provided
5
Voltage Program Input
0 to 10Vdc=0 to 100% Rated Output, Zin=10MΩ
6
Voltage Program Differential Amplifier Output
0 to 10Vdc=0 to 100% Rated Output, Zout =2.2kΩ
7
Voltage Program Differential Amplifier Input—Positive
0 to 10Vdc differential between pin 7 and pin 9 = 0 to 100% of rated output, diode clamped to ground, Zin =38kΩ
8
Current Monitor Output
0 to 10Vdc = 0 to 100% Rated Output, Zout =2.2kΩ
9
Voltage Program Differential Amplifier Input—Negative
0 to 10Vdc differential between pin 7 and pin 9 = 0 to 100% of Rated Output, diode clamped to ground, Zin =38kΩ
10
No Connection
No Connection
11
Current Program Input
Standard: Internally connected to provide 110% fixed current limit VCC Option: 0 to 10Vdc=0 to 100% Rated Output, Zin=1MΩ
12
Enable Input
Low = Enable, TTL, CMOS, Open Collector Compliant
13
Internal Connection
No Connection
14
No Connection
No Connection
15
Analog Signal Ground
Analog Signal Ground
DIMENSIONS: in.[mm]
1-10kV Unit
FRONT VIEW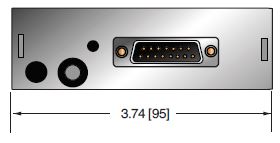 SIDE VIEW

BOTTOM VIEW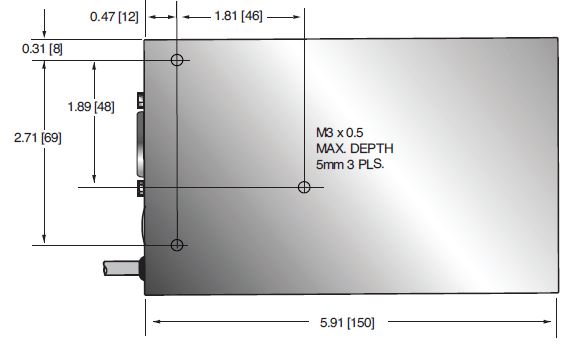 15-20kV Unit
FRONT VIEW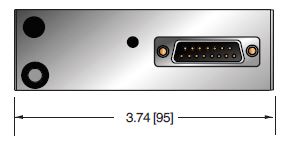 SIDE VIEW

BOTTOM VIEW