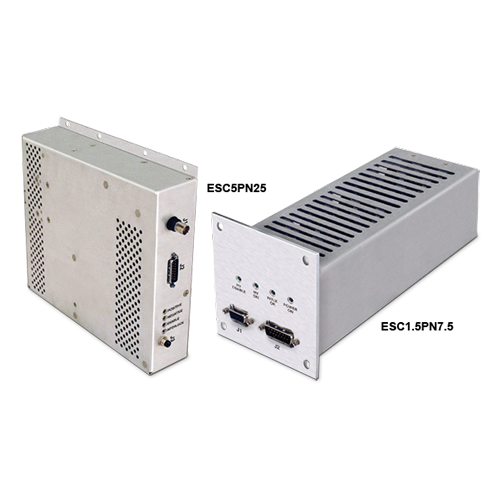 Series ESC
Ground Referenced, Reversible Output
Floating, Reversible Bipolar Output
Comprehensive Fault Diagnostics
High Voltage Safety Interlock
OEM Customization Available
*Note: All specifications are subject to change without notice. Please consult the English PDF version of this datasheet for the most up-to-date revision.
Electrostatic Chuck High Voltage Power Supply
Spellman's ESC Series of electrostatic chuck power supplies provide clean and accurate voltages required for electrostatic chuck wafer processing applications. These custom designed, well regulated supplies pre­cisely secure the wafer during lengthy process cycles. Versions are available with a ground referenced reversible output in addition to units featuring a true floating bipolar output with associated floating center tap point. Comprehensive fault diagnostic circuitry monitors power supply functionality and communicates status data to the user interface. Spellman's ESC Series power supplies are housed in compact, lightweight packages designed for OEM installations requiring minimal system footprint space.
(Ref. 128093-001 REV. B)
ESC5PN25
Output Configuration:
Single ground referenced HV output, positive or negative polarity
Input:
+24Vdc, ±5% @ 2 amps, maximum
Output:
+2kV to -5kV. 2mA @ +2kV, 5mA @ -5kV
Short Circuit Current Limit:
5.5mA, maximum
Output Isolation:
None, ground referenced output
Slew Rate:
80ms, typical
Maximum Cycle Frequency:
10 times per second
Overshoot:
<10% of set point value
Ripple:
10Vrms
Line Regulation:
±0.7% over specified range
Load Regulation:
±0.7% over specified range
Output Voltage Accuracy:
<2% of set point value between 50-5000Vdc
Program/Monitor Accuracy:
1% of full scale, ±50mV
Dimensions:
9.W x 1.5.H x 6.1.L (228.6mm x 30.5mm x 155mm)
Weight:
4.5lbs. (2kg)
ESC01.5PN7.5
Output Configuration:
Floating, reversible polarity bipolar output with floating center tap
Input:
+24Vdc, ±10% @ 2 amps, maximum
Output:
Bipolar, 0 to ±750Vdc (0 to 1500Vdc total) @ 5mA
Short Circuit Current Limit:
5.5mA, maximum
Output Isolation:
Center tap is isolated for ±2kV from ground
Slew Rate:
40ms, typical
Maximum Cycle Frequency:
10 times per second
Ripple:
2.5Vrms
Line Regulation:
±0.7% over specified range
Load Regulation:
±0.7% over specified range
Output Voltage Accuracy:
<1% of set point between 50-1500Vdc
Program/Monitor Accuracy:
0.5% of full scale, ±50mV
Dimensions:
3.4.W x 3.H x 10.5.L (86.5mm x 76.5mm x 266.7mm)
Weight:
5lbs. (2.3kg)