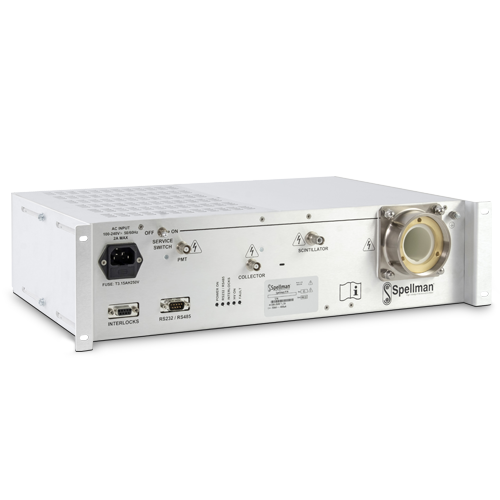 EBM-TEGR
熱電子放出SEM用三極管電源
高精度、低ノイズ、優れた安定性
過電流/電圧、アーク、短絡保護機能付き
RS-232またはRS-485デジタルインタフェース
テスト、開発用フリーGUI
OEMによるカスタマイズが可能
CE、UKCA、RoHSに準拠
*注: すべての仕様は予告なく変更される場合があります。最新版についてはこのデータシートの英語PDF版をご




熱電子放出SEM用三極電源内蔵型
EBM-TEGRは、熱電子放出型走査電子顕微鏡(SEM)に必要な高電圧を、19インチラックマウント可能なシャーシに搭載した統合ソリューションです。
スペルマン独自のパッケージングおよびカプセル化技術により、他のSEM電源製品と比較して、サイズ、コスト、および性能の面で劇的な改善を実現しています。
このユニットは、高レギュレーション、低ノイズ、超安定したアクセラレータ電源を提供し、400uAで最大-30kVまでプログラム可能です。加速器に接続されたフローティングフィラメントおよびグリッド電源とともに、ビームを制御します。また、検出器を駆動するための高電圧出力も備えており、PMT、シンチレータ、コレクタ接地出力で構成されています。
この統合されたEBM-TEGR電源システムのお客様による制御は、RS-232またはオプションのRS-485インターフェースを介して行われます。5つのインターロックが用意されています。このユニットは、CEおよびUKCAマークが付いています。
(Ref. 128031-001 REV. A)
SPECIFICATIONS
Input Voltage:
100 to 264 Vac @2A max. 47 to 63Hz
Temperature:
Operating: 10°C to +45°C
Storage: -10°C to +70°C
Humidity:
0 to 90% RH, non-condensing
Interlocks:
Five interlocks are provided on a 9 pin D connector (see pinout details).
The EHT, Collector, Scintillator and PMT interlocks disable the corresponding outputs when open (the other outputs can be powered up).
The Vacuum interlock disables the gun supplies (EHT and heater) when open.
Front Panel Indicators:
POWER ON: Green LED
INTERLOCKS: Yellow LED indicates that all the interlocks are closed and the unit is able to generate high voltage.
HV ON: Yellow LED indicates that the high voltage EHT (Accelerator) Output is energized.
RS-232/RS-485: Yellow LED indicates when communications are taking place on the RS-232/RS-485 bus.
FAULT: Red LED indicates that an Error condition has occurred.
Input Power Connector::
I.E.C. 320 Receptacle with integral fuse
High Voltage Output Connectors:
Grid and Filament: Claymount CA1 type 03 (see drawing)
A mating cable assembly is available (see drawing and How To Order table)
Collector and PMT: BNC HT-MHV Receptacle Radiall R316553000
Scintillator: SHV Receptacle Radiall R317580000
Protection:
All outputs are protected from arcs in the load and continuous short circuit to ground and between each other.

- If the Beam Energy has more than 4 arcs in a 10 minutes period, unit will disable all outputs and sets all programs to zero.
- In case of an over temperature condition for greater than 100° C for ten seconds all outputs will be disabled.
- Over voltage, over current and internal communication issues are also monitored and trigger fault conditions.
- The unit reports fault or trip conditions through status flags. After a Trip occurs, the unit can be reset through software (digital interface) or power cycle.
Dimensions:
See drawing
Weight:
39.7 lbs. (18kg)
Regulatory Approvals:
Compliant to EEC Low Voltage Directive. UK Conformity Assessed. RoHS Compliant.
OUTPUT SPECIFICATIONS
OUTPUT
Accelerator (EHT)
Filament
Grid
PMT
Scintillator
Collector
Output Voltage
-100V to -30kV, referenced ground
5V max, 15W max center tapped to the Accelerator
-35V to -1650V referenced to Accelerator
0V to -1300V referenced to ground
+50V to +1kV referenced to ground
-400V to +400V referenced to ground
Output current - max
400μA
5A
400μA
1mA (current trip level: 1.2mA)
200μA
4μA
Accuracy
±2% or ±30V (whichever is greater)
±5% or ±100mA (whichever is greater)
N/A
±2% or ±1V (whichever is greater)
<1% or ±10V (whichever is greater)
±2% or ±2V (whichever is greater)
Load Regulation
<10ppm for 30μA to 400μA
<5mA for a 0.4Ω to 1Ω change at 3A
N/A
<±100ppm for 0 to 1mA
<100ppm for 10μA to 200μA
<5% for 0 to 5 mA
Line Regulation at full load ± 10% line change
<10ppm
<5mA
N/A
<100ppm
<100ppm
<10mV
Ripple p-p at max. output
<100mV
1mA at 50Hz 30mV at 100kHz at 3A,1Ω
N/A
<200mV
<100mV
<25mV
Temperature Coefficient
<50 ppm/°C
<300 ppm/°C
N/A
<100 ppm/°C
<250 ppm/°C
<50 ppm/°C
Stability (1h warm up)
<10 ppm/15min
<25 ppm/1h
<2mA/1h
<0.4μA/15min
200 ppm/1h
<1%/1h
<50mV/15min
INTERLOCKS CONNECTOR 9 PIN D SUB-FEMALE
| Pin | Signal | I/O | Signal Parameters |
| --- | --- | --- | --- |
| 1 | 0V | - | Ground |
| 2 | 24V | O | 24V Output from unit (connected to pin 6 internally) |
| 3 | Collector | I | Input for collector interlock |
| 4 | Scintillator | I | Input for Scintillator interlock |
| 5 | Vacuum | I | Input for vacuum interlock (connected to pin 8 internally) |
| 6 | 24V | O | 24V output from unit (connected to pin 2 internally |
| 7 | EHT | I | Input for EHT interlock |
| 8 | Vacuum | I | Input for vacuum interlock (connected to pin 5 internally) |
| 9 | PMT | I | Input for PMT interlock |
DIGITAL COMMUNICATIONS CONNECTOR 9 PIN D SUB-MALE
| Pin | RS-232 | RS-485 | Description |
| --- | --- | --- | --- |
| 1 | - | - | N/C |
| 2 | RS-232 RxD | - | RS-232 data receive |
| 3 | RS-232 TxD | Z | RS-232 data transmit or RS-485 inverting |
| 4 | - | - | N/C |
| 5 | GND | GND | Ground |
| 6 | - | - | N/C |
| 7 | - | Y | RS-485 non-inverting |
| 8 | - | - | N/C |
| 9 | - | - | N/C |
HOW TO ORDER
| Description | Part Number |
| --- | --- |
| EBM-TEGR | EBM30N12/TEGR |
| EBM-TEGR with RS-485 option | EBM30N12/TEGR/DCC4 |
| HV Output cable - 4 meters | HVC75/3SO/1282 |
DIMENSIONS: in.[mm]
Side View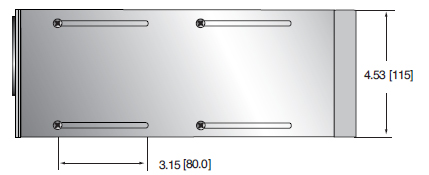 Top View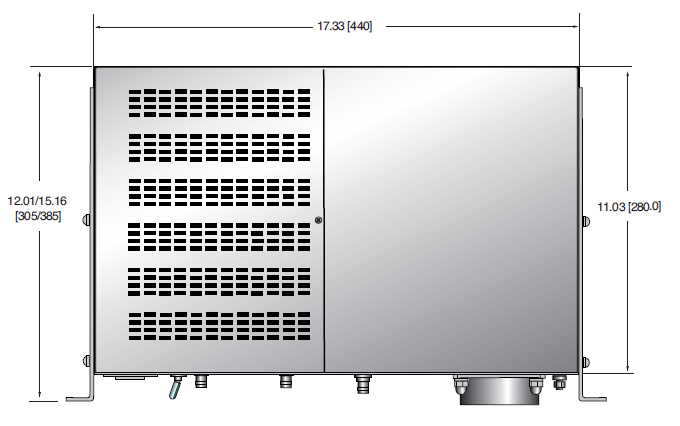 Front View