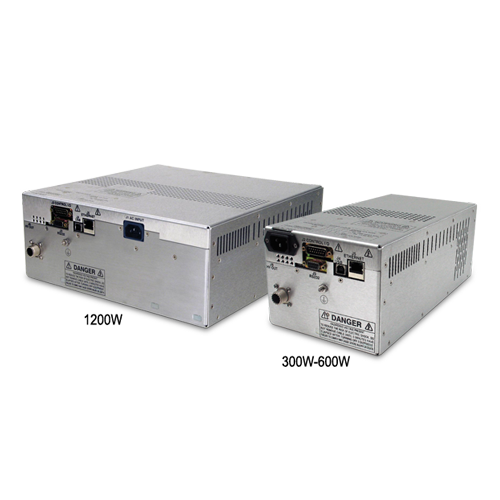 SERIE SLM
Modelos de 1 kV-160 kV, 300 W, 600 W y 1200 W
Compacta y ligera
Entrada universal, factor de potencia corregido
Interfaces estándar USB, Ethernet y RS-232
Cumplimiento CE y reconocimiento UL
FUENTES DE ALIMENTACIÓN DE ALTO VOLTAJE DE 300 W-1200 W
Los módulos de alto voltaje de la serie SLM de Spellman están diseñados para aplicaciones de OEM de hasta 160 kV a 1200 W. Su entrada universal, tamaño de paquete pequeño y la elección de una de las tres interfaces estándar simplifican la integración de la serie SLM en el diseño de su sistema. Los modelos están disponibles en polaridad positiva o negativa. La serie SLM está completamente protegida contra arcos y cortocircuito. Se proporciona con excelentes especificaciones de regulación y una sobresaliente estabilidad de funcionamiento.
Aplicaciones típicas:
Carga de capacitores
Prueba de potencial alto
Pruebas de CRT
Electrostática
Sistemas de rayos de electrones
Láseres CW

(Ref. 128035-001 REV. AB)
Input Voltage:
Power factor corrected input ≥0.98
100-240Vac, ±10% (90-264Vac):
47-63Hz @ 4.0A for 300 watt units
200-240Vac, ±10% (180-264Vac):
47-63Hz @ 4.0A for 600 watt units
47-63Hz @ 8.0A for 1200 watt units
Output Voltage:
12 models—1kV to 160kV
Output Polarity:
Negative or positive, specify at time of order
Local Indicators:
Arc, HV On, Temp Error, OVP, I Mode
Power On, OC, Reg Error
Power:
3 power ranges available—300, 600 and 1200 watts. Other power levels available on special order.
Voltage Regulation:
≤ 0.01% of rated output voltage over specified
input voltage range
≤ 0.01% of rated output voltage for a full load change
Current Regulation:
≤ 0.01% of rated output current over specified input voltage range
≤ 0.01% of rated output current for a ±100µA
for a full voltage change
Ripple:
≤ 0.2% rms of maximum rated voltage,
measured with a 10 foot long HV cable
Stability:
≤ 50ppm/hr after a 2 hour warm up
Temperature Coefficient:
≤ 100ppm per degree C
Environmental:
Temperature Range:
Operating: 0°C to 40°C
Storage: -40°C to 85°C
Humidity:
20% to 85% RH, non-condensing.
Control Interface
Local Interface:
Potentiometers are provided to adjust voltage and current.
Remote Interface:
USB, Ethernet and RS-232 are standard, implemented with 12 bits of resolution. All digital monitors have an accuracy specification of 2%.
Control Software:
A Windows graphical user interface example is provided.
embedded applet for control.
HV Control Enable/Interlock:
A dry contact, hardware based interlock is provided for remote mode. In local mode this I/O is the enable.
Monitor Signals:
Voltage and current monitor signals are scaled 0-10Vdc equals 0-100% of full scale, accuracy is 1%.
Cooling:
Forced air
Dimensions:
300/600 watts:
4.75˝ H X 6˝ W X 12˝ D (120.65mm x 152.4mm x 304.8mm)
1200 watts:
4.75˝ H X 12˝ W X 12˝ D (120.65mm x 304.8mm x 304.8mm)
160kV:
10.5˝ H X 19˝ W X 21.5˝ D (266.7mm x 482.6mm x 546.1mm)
Weight:
300/600 watts: 14 pounds (6.35kg)
1200 watts: 26 pounds (11.8kg)

160kV: 142 pounds (64.4kg)
Input Line Connector:
IEC320 cord set with integrated EMI filter
Output Cable:
A detachable 10' (3.3m) long shielded HV cable is provided.
160kV units: R24 connector. Mating HV cable not provided.
Regulatory Approvals:
Compliant to 204/108/EC, the EMC Directive and 2006/95/EC, the Low Voltage Directive. UL/CUL recognized, File 227588. RoHS compliant. SLM160*1200 is not UL recognized.
FIRMWARE CONFIGURATIONS:
STANDARD BASED FEATURES
AOL - Adjustable Overload Trip
AT - Arc Trip
NAD - No Arc Detect
NSS - No Slow Start
PSS - Programmable Slow Start
RFR - Remote Fault Reset
RMI - Remote Mode Indicators
ROV - Remote Overvoltage Adjust
SLM SELECTION TABLE- 300W
300 Watt
kV
mA
Model
1
300
SLM1*300
3
100
SLM3*300
5
60
SLM5*300
10
30
SLM10*300
15
20
SLM15*300
20
15
SLM20*300
30
10
SLM30*300
40
7.5
SLM40*300
50
6
SLM50*300
60
5
SLM60*300
70
4.28
SLM70*300
*Specify "P" for positive polarity or "N" for negative polarity
SLM SELECTION TABLE- 600W
600 Watt
kV
mA
Model
1
600
SLM1*600
3
200
SLM3*600
5
120
SLM5*600
10
60
SLM10*600
15
40
SLM15*600
20
30
SLM20*600
30
20
SLM30*600
40
15
SLM40*600
50
12
SLM50*600
60
10
SLM60*600
70
8.56
SLM70*600
*Specify "P" for positive polarity or "N" for negative polarity
SLM SELECTION TABLE- 1200W
1200 Watt
kV
mA
Model
1
1200
SLM1*1200
3
400
SLM3*1200
5
240
SLM5*1200
10
120
SLM10*1200
15
80
SLM15*1200
20
60
SLM20*1200
30
40
SLM30*1200
40
30
SLM40*1200
50
24
SLM50*1200
60
20
SLM60*1200
70
17.14
SLM70*1200
160
7.5
SLM160*1200
*Specify "P" for positive polarity or "N" for negative polarity
SLM ANALOG INTERFACE—J2 15 PIN MALE D CONNECTOR
| Pin | Signal | Signal Parameters |
| --- | --- | --- |
| 1 | Power Supply Fault | Open Collector, 35V @ 10mA Maximum |
| 2 | Current Program In | 0 to 10V=0 to 100% Rated Output, Zin=10MΩ |
| 3 | Voltage Program In | 0 to 10V=0 to 100% Rated Output, Zin=10MΩ |
| 4 | NC | No Connection |
| 5 | Local Voltage Prog. | Multi-turn front panel potentiometer |
| 6 | NC | No Connection |
| 7 | Local Current Prog. | Multi-turn front panel potentiometer |
| 8 | Voltage Monitor | 0 to 10V=0 to 100% Rated Output, Zout =4.99k, 1% |
| 9 | Signal Ground | Ground |
| 10 | Current Monitor | 0 to 10V=0 to 100% Rated Output, Zout =4.99k, 1% |
| 11 | HV Enable Input | Connect to Pin 12 to HV Enable Supply |
| 12 | HV Enable Output | +15V @ Open, ≤15mA @ Closed |
| 13 | NC | No Connection |
| 14 | HV On Output Signal | Open Collector, 35V @10mA Maximum |
| 15 | Spare | No Connection |
RS-232 DIGITAL INTERFACE— J3 9 PIN FEMALE D CONNECTOR
| Pin | Signal | Signal Parameters |
| --- | --- | --- |
| 1 | NC | No Connection |
| 2 | TX out | Transmit Data |
| 3 | RX in | Receive Data |
| 4 | NC | No Connection |
| 5 | SGND | Ground |
| 6 | NC | No Connection |
| 7 | NC | No Connection |
| 8 | NC | No Connection |
| 9 | NC | No Connection |
RS-232 DIGITAL INTERFACE— J4 4 PIN USB "B" CONNECTOR
| Pin | Signal | Signal Parameters |
| --- | --- | --- |
| 1 | VBUS | +5 Vdc |
| 2 | D- | Data - |
| 3 | D+ | Data + |
| 4 | GND | Ground |
ETHERNET DIGITAL INTERFACE— J5 8 PIN RJ45 CONNECTOR
| Pin | Signal | Signal Parameters |
| --- | --- | --- |
| 1 | TX+ | Transmit Data + |
| 2 | TX- | Transmit Data - |
| 3 | RX+ | Receive Data + |
| 4 | NC | No Connection |
| 5 | NC | No Connection |
| 6 | RX- | Receive Data - |
| 7 | NC | No Connection |
| 8 | NC | No Connection |
R24 HV CONNECTOR PINOUT J6 HIGH VOLTAGE OUTPUT (160kV)
| Pin | Output Connection |
| --- | --- |
| C (common) | High Voltage Output |
| S (small) | High Voltage Output |
| L (large) | High Voltage Output |