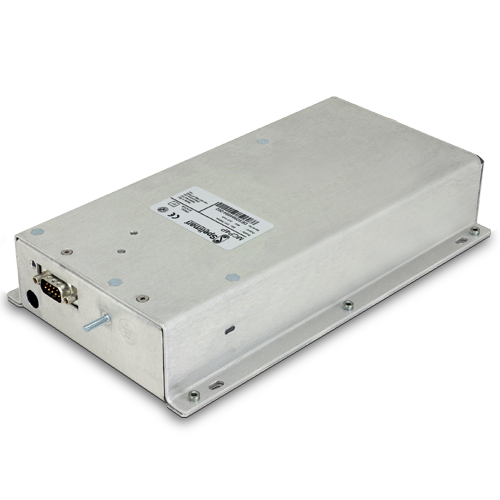 MCP4
Salida flotante y programable de 4kV.
Salida aislada a 15 kV.
Bien regulado, baja ondulación
Monitor de voltaje de salida
Caja metálica blindada compacta.
Protección de arco y corto circuito.
*Nota: Todas las especificaciones están sujetas a cambios sin previo aviso. Consulte la versión en inglés en PDF de esta hoja de datos para obtener la revisión más actualizada.

CONVERTIDOR DE DC A DC DE ALTO VOLTAJE
El MCP4 de Spellman es un convertidor DC-DC de alto rendimiento bien regulado que cuenta con una salida flotante de 4kV a 600uA, aislada a 15 kV. La especificación baja de rizo de salida y la alta estabilidad de la MCP4 la hacen ideal para su uso con detectores en aplicaciones de espectrometría de masas tales como: multiplicadores de electrones (EM), detectores de placas de microcanal (MCP) y multiplicadores de electrones de canal. Este módulo está empaquetado en una carcasa metálica blindada y la salida de alto voltaje se proporciona a través de dos cables coaxiales blindados cautivos de un metro de largo. La unidad tiene programación remota de voltaje de 0-10Vdc = 0-100% del voltaje de salida y monitor de voltaje. Una señal de habilitado compatible con TTL proporciona un control sencillo de la salida de alto voltaje. Esta unidad ha sido diseñada específicamente para minimizar la interferencia con la fuente de alta tensión sobre la que flota. La MCP4 se puede personalizar para satisfacer los requisitos del OEM.
Aplicaciones típicas:
Detectores de espectrometría de masas.
Placas de microcanal
Multiplicadores de electrones.
Multiplicadores de electrones. de canal.
(Ref. 128152-001 REV. B)
Input Voltage:
+24Vdc, ±5%
Input Current:
700 mA maximum
Output Voltage:
0 to 4kV, continuously variable over the entire output range
Output Current:
600uA maximum
Current Limit:
1900uA maximum
Polarity:
Reversible polarity inherent by design
Isolation Voltage:
Up to 15kV total to ground.
Note: When the unit output is set to zero and no load is connected: If the reference supply is positive (up to +15kV), +VE will always be less than 100V with respect to -VE. If the reference supply is negative (up to -15kV), a 47MΩ pre-load resistor fitted within the MCP4 limits +VE (with respect to -VE) to ≤ 1400V
Line Regulation:
50ppm for a ±5% line change
Load Regulation:
300ppm for a 10% to 100% load change
Voltage Programming:
0 to 10 volt corresponds to 0 to 100% of rated output voltage
Voltage Monitor:
0 to 10 volts corresponds to 0 to 100% of rated output voltage. Accuracy ±1%. Iout=300μA maximum
Ripple:
100mVpp
Injected Ripple:
30mVpp, on an appropriate, properly connected ground referenced high voltage generator
Temperature Coefficient:
20ppm per degree C
Environmental:
Temperature Range:
Operating: 0˚C to 50˚C
Storage: -30˚C to 85˚C
Humidity:
5% to 90%, non-condensing.
Cooling:
Convection cooled
Dimensions:
1.81˝ H X 5.74˝ W X 9.53˝ D (46mm X 139mm X 242mm
Weight:
3.85 pounds (1.75kg)
Interface/Power Connector:
9 pin male D connector
High Voltage Output Cable:
HV positive: 45.3" (1150mm) fly wire, HRG58 coaxial HV cable
HV negative: 45.3" (1150mm) fly wire, HRG58 coaxial HV cable
Regulatory Approvals:
Designed to meet IEC/UL 61010-1 Safety requirements for electrical equipment for measurement, control and laboratory use; CAN/CSA-C22.2 No.61010-1. CE marked to EN 61010-1. UKCA marked to BS EN 61010-1. RoHS compliant.
EMC:
As the unit is designed for incorporation within the users system it is not tested against any specific EMC standards. The user will need to take sensible EMC precautions when designing the unit in and verify the overall system EMCperformance against any relevant standards.
INTERFACE/POWER CONNECTOR—9 PIN MALE D
| PIN | Signal | Signal Parameters |
| --- | --- | --- |
| 1 | Voltage Programing Input | 0 to 10 volt. Accuracy=2% Zin=20kΩ |
| 2 | Voltage Programing Return | Differential return for Voltage programming |
| 3 | Enable | Enable = High (>2V) Vmax = 11V, Imax = 19mA |
| 4 | Enable Return | Differential return for Enable |
| 5 | Power Ground | Power Ground |
| 6 | Signal Ground | Signal Ground |
| 7 | Voltage Monitor | 0 to 10 volt corresponds to 0 to 100% of rated output. Accuracy ±1%. Iout=300μA maximum |
| 8 | N/C | N/C |
| 9 | +24V Input | +24Vdc Input |
How to Order:
Standard: PART NO.: MCP4P

DIMENSIONS: in.[mm]
FRONT VIEW

SIDE VIEW

TOP VIEW