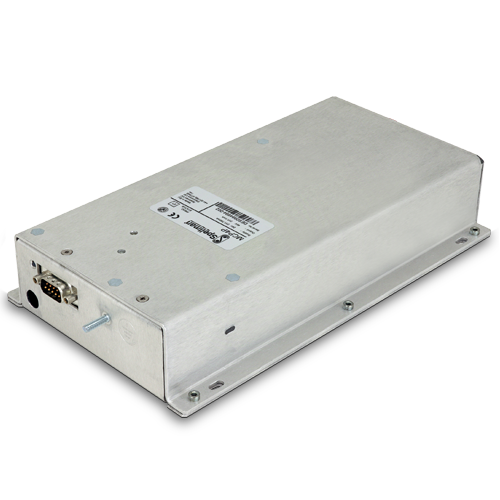 斯派曼MCP4高压电源DC-DC转换器
斯派曼 MCP4 是一个良好的调节、高性能直流-直流转换器具有浮地4kV @ 600uA 输出、隔离到15kV。此MCP4 低输出纹波规格和高稳定性使其非常适合用于质谱应用中的检测器,如电子倍增器(EM's)、微通道板检测器 (MCP's) 和通道电子倍增器。该模块封装在一个屏蔽金属外壳中,高压输出通过两根1米长的屏蔽同轴电缆提供。该单元有远程0-10Vdc = 0-100% 额定电压编程和电压监测。一个TTL兼容使能信号提供简单的控制高压输出。此单元是专门设计来减少与它所浮地的高压源的串扰。此MCP4可以定制以满足OEM客户的需求。
典型应用
:
质谱检测器
微通道平板
电子倍增器
通道电子倍增器
(Ref. 128152-001 REV. A)
Input Voltage:
+24Vdc, ±5%
Input Current:
700 mA maximum
Output Voltage:
0 to 4kV, continuously variable over the entire output range
Output Current:
600uA maximum
Current Limit:
1900uA maximum
Polarity:
Reversible polarity inherent by design
Isolation Voltage:
Up to 15kV total to ground.
Note: Resistors in the MCP HV network will allow a voltage on the MCP +VE output whenever the HV input is negative for a positive connected unit, or for a positive HV input, a negative connected MCP. This voltage will be 47:500 of the isolation voltage, thus <1400V at 15kV, without a load connected.
Line Regulation:
50ppm for a ±5% line change
Load Regulation:
300ppm for a 10% to 100% load change
Voltage Programming:
0 to 10 volt corresponds to 0 to 100% of rated output voltage
Voltage Monitor:
0 to 10 volts corresponds to 0 to 100% of rated output voltage, ±1%, Zout = 10kΩ
Accuracy:
±2%
Below 10% accuracy spec is not guaranteed
Ripple:
100mVpp
Injected Ripple:
30mVpp, on an appropriate, properly connected ground referenced high voltage generator
Temperature Coefficient:
20ppm per degree C
Environmental:
Temperature Range:
Operating: 0˚C to 50˚C
Storage: -30˚C to 85˚C
Humidity:
5% to 90%, non-condensing.
Cooling:
Convection cooled
Dimensions:
1.81˝ H X 5.74˝ W X 9.53˝ D (46mm X 139mm X 242mm
Weight:
3.85 pounds (1.75kg)
Interface/Power Connector:
9 pin male D connector
High Voltage Output Cable:
HV positive: 45.3" (1150mm) fly wire, HRG58 coaxial HV cable
HV negative: 45.3" (1150mm) fly wire, HRG58 coaxial HV cable
Regulatory Approvals:
Compliant to EEC Low Voltage Directive. RoHS compliant. The unit is designed to meet the requirements of EN 61010-1, IEC/UL 61010-1 and CAN/CSA-22.2 No. 61010-1.
EMC:
As this unit is intended for incorporation into user's equipment it will not be tested as a stand-alone unit to EMC directive. The user will need to follow sensible EMC precautions in
using the unit.
INTERFACE/POWER CONNECTOR—9 PIN MALE D
PIN
Signal
Signal Parameters
1
Voltage Programing Input
0 to 10 volt corresponds to 0 to 100% of rated
output voltage
2
Voltage Programing Return
Differential return for Voltage programming
3
Enable
Enable = High (>2V) Vmax = 11V, Imax = 19mA
4
Enable Return
Differential return for Enable
5
Power Ground
Power Ground
6
Signal Ground
Signal Ground
7
Voltage Monitor
0 to 10 volt corresponds to 0 to 100% of rated
output voltage
8
N/C
N/C
9
+24V Input
+24Vdc Input
How to Order:
Standard: PART NO.:MCP4PN24

DIMENSIONS: in.[mm]
FRONT VIEW

SIDE VIEW

TOP VIEW