Spellman High Voltage Introduces New Dental Monoblock® X-Ray Source For Panoramic/Ceph/CT applications
октября 07, 2014
Hauppauge, New York - Spellman High Voltage Electronics Corporation announces the introduction of its new PDM Dental Monoblock® X-Ray Source. This compact and lightweight integrated high voltage power supply, filament power supply and X-Ray tube assembly is ideal for panoramic/cephalometric/CT dental imaging.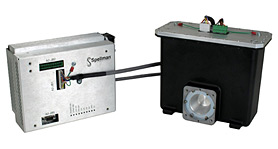 For 2 D Panoramic imaging applications Spellman's new PDM can operate for a maximum of 30 seconds continuous at 900 watts. A maximum of five consecutive scans are possible with 60 seconds between scans. The PDM also supports 3D CT imaging applications. The maximum CT scan time is 45 seconds at 40 pulses per second.
The PDM's X-Ray tube voltages are adjustable from 50kV to 90kV with tube current capability from 1mA to 10mA, delivering a peak power output of 900 watts, with a focal spot size of 0.5mm. A power factor corrected universal input front end minimizes input currents while complying with worldwide input voltage requirements. The PDM can be controlled from either an analog or RS-232 digital interface, providing flexibility in system integration.
This compact unit's X-Ray tank size is only 247x119x195mm, with a separate control assembly at 180x92x250mm, which allows for ease of OEM integration. As with all Spellman products, customization is available based on unique application requirements. The PDM data sheet can be downloaded here:
www.spellmanhv.com/PDM
Spellman High Voltage Electronics is the world's leading provider of high performance, custom and standard DC high voltage power converters and Monoblock® X-ray sources for medical, industrial, semiconductor, security, analytical, laboratory and under-sea cable power-feed applications. As a global supplier with strategically located design and manufacturing facilities in North America, Europe and Asia, Spellman is committed to providing best-in-class support to OEM customers and end-users throughout the world.
Additional information on Spellman and their wide range of high voltage products is available at:
www.spellmanhv.com