Spellman Introduces Innovative Touchscreen X-Ray Controller
ноября 28, 2011
November 28, 2011 – Hauppauge New York – Spellman High Voltage Electronics Corporation, the world's leading manufacturer of custom high voltage power conversion products, announces the introduction of the XRVC, an intuitive touch screen driven controller for any of Spellman's popular XRV series of X-Ray generators.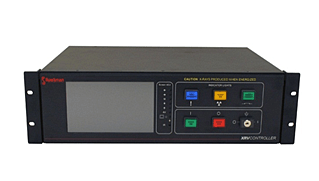 This sophisticated and robust controller was designed using an embedded computing system running a custom Graphical User Interface (GUI). The GUI, embedded computer and ancillary hardware are housed in a rugged 5.25 inch tall (3U) rack mount chassis. Capabilities of the XRVC include: creation of custom X-Ray tube seasoning profiles, one shot or continuous user fabricated operational profiles, and automatic X-Ray tube configuration.
Designed for a compact, touch-centric environment, the XRVC has an integrated on-screen keyboard that provides rich input capabilities for operation without an external keyboard. Adaptive software detects the XRV controller and configures it accordingly, while dynamic feedback allows control of the unit with real time viewing of the output.
The XRVC data sheet can be downloaded here:
Information on Spellman and their wide range of high voltage products is available by calling +1-631-630-3000, or by visiting their website: www.spellmanhv.com
Spellman High Voltage Electronics is the world's leading provider of custom designed and standard AC-DC and DC-DC high voltage power converters and Monoblock® X-Ray sources for medical, industrial, semiconductor, security, analytical, laboratory, and under-sea cable power-feed applications. With design, manufacturing and service facilities in the US, UK, Mexico, China and Japan, and direct sales offices throughout Europe, Asia and North America, Spellman is committed to supporting advanced system providers and their customers throughout the world.