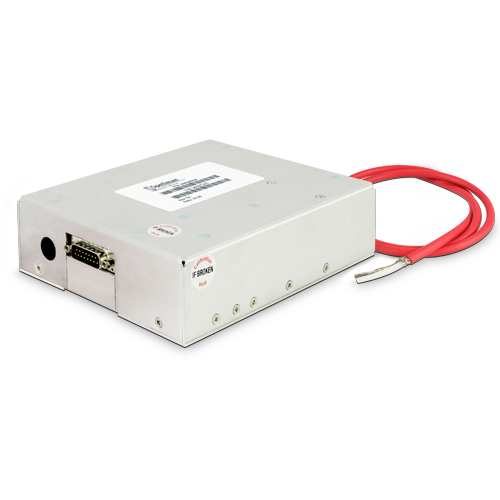 MXE Series
Hot-switchable polarity reversing modules from 2.5kV to 10kV, at 200µA
Differential Analog Voltage Control
Voltage and Current Monitors
High Stability, Low Temperature Coefficient
Ultra Low Ripple and Noise, Specified Down to 1/f Band
*Note: All specifications are subject to change without notice. Please consult the English PDF version of this datasheet for the most up-to-date revision.


Precision hot-switchable polarity reversing modules
Spellman's MXE series is a family of high voltage, high performance, ultra-compact, hot-switchable polarity reversing modules with output voltages rang ing from 2.5kV to 10kV.
The MXE series is controlled via analog interface, provided via a standard 15-pin D-type connector. The units feature a differential voltage program input for low noise control and TTL compatible Enable and Polarity control signal inputs.
Spellman's advanced low noise, high stability technology provides the high quality and performance needed for precision applications.
Typical Applications:
Mass Spectrometry
Automatic Test Equipment
Capillary Electrophoresis
Dual Ion Surface Analysis
Electrostatic Printing
Electrostatic Lenses
Electrospinning
Precision Laboratory
(Ref. 128162-001 REV. B)
SPECIFICATIONS
Input Voltage:
+24Vdc, ±1.2Vdc
Input Current:
0.5A maximum
Output Voltage:
3 models available: ±2.5kV, ±5kV and ±10kV
The minimum programmable voltage is ±20V
The output is not designed to sink current
Output Polarity:
Hot-switchable polarity reversing
Output Current:
200μA maximum
Voltage Regulation:
Line: For a 5% line change 20ppm
Load: 0-100% load 20ppm
Accuracies:
Voltage Programming: ±1% or ±10V*
Voltage Monitor: ±2% or ±20mV*
Current Monitor: ±5% or ±50mV*
*whichever is greater
Current Limit:
110% of rated output current.
Polarity Reversal Time:
10s to within 2ppm at max output voltage amplitude and 100pF load
Output Decay Time:
5s to <50V at no-load condition
Ripple:
30mV between 0.01Hz and 20MHz
Stability:
15ppm/8h after one hour warm up period
Temperature Coefficient:
15ppm per degree C
Protection:
Arc and short circuit protected.
The power supply will fully recover once the short is removed with no subsequent damage to load, supply, input control, or input supply
Environmental:
Temperature Range:
Operating: 10˚C to 45˚C
Storage: -20˚C to 85˚C
Humidity:
5% to 90% RH, non-condensing
Cooling:
Convection cooled
Dimensions:
1.9˝ H X 5.7˝ W X 6.8˝ D (48mm x 144mm x 172mm)
Weight:
3.74 lbs (1.7kg)
Interface Connector:
15 pin male D connector
Output Connectors:
Captive 39.4˝ (1 meter) long un-terminated shielded HRG58 HV cable (URM76 compatible)
Regulatory Approvals:
Compliant to EEC Low Voltage Directive. UK Conformity Assessed. RoHS Compliant.
MXE SELECTION TABLE
| Model | OutputVoltage | Output Current |
| --- | --- | --- |
| MXE2.5PN24 | ±2.5kV | 200μA |
| MXE5PN24 | ±5kV | 200μA |
| MXE10PN24 | ±10kV | 200μA |
MXEEXTERNAL INTERFACE—15 PIN MALE D CONNECTOR
| PIN | SIGNAL | SIGNAL PARAMETERS |
| --- | --- | --- |
| 1 | 24Vdc Return | Input voltage return |
| 2 | +24Vdc Input | Input voltage +24dc @ 0.5A max |
| 3 | Voltage Monitor Output | 0 to 10Vdc = 0 to 100% rated output, Zout=330Ω |
| 4 | Polarity Set Input | TTL level or open/short contact signal. Low or short = Positive, high or open = Negative |
| 5 | N/C | Pin used internally - do not connect |
| 6 | N/C | 0 to 10Vdc differential between pin 7 and pin 6 = |
| 7 | Voltage Program Input | 0 to 100% of rated output, Zin=100kΩ |
| 8 | Current Monitor Output | 0 to 10Vdc = 0 to 200μA, Zout=330Ω |
| 9 | N/C | Pin used internally - do not connect |
| 10 | N/C | Pin used internally - do not connect |
| 11 | Signal Ground | Signal ground for control and monitoring |
| 12 | Enable Input | TTL level or open/short contact signal. Low or short = enabled, high or open = disabled |
| 13 | Control Pin | Connect to pin 14 |
| 14 | Control Pin | Connect to pin 13 |
| 15 | N/C | Pin used internally - do not connect |
DIMENSIONS: in.[mm]

FRONT VIEW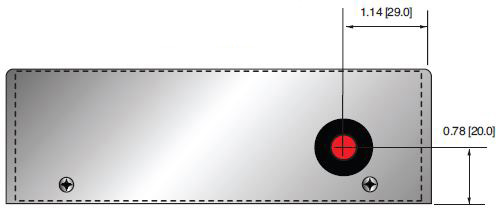 BOTTOM VIEW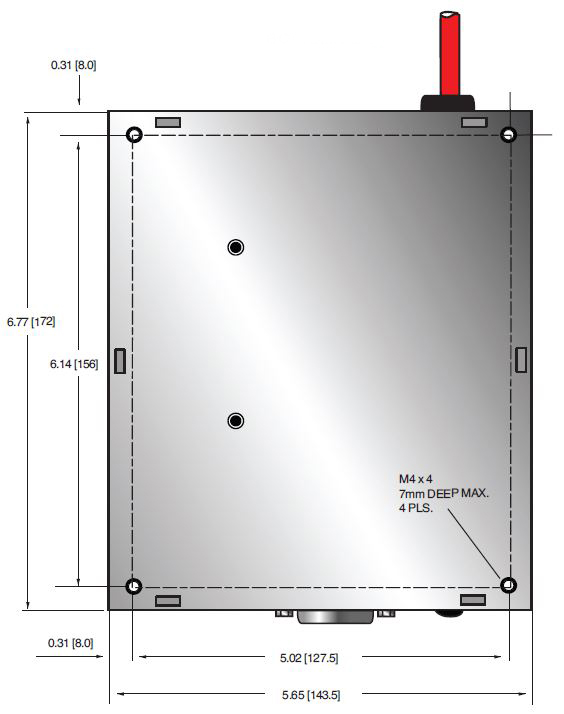 REAR VIEW

SIDE VIEW