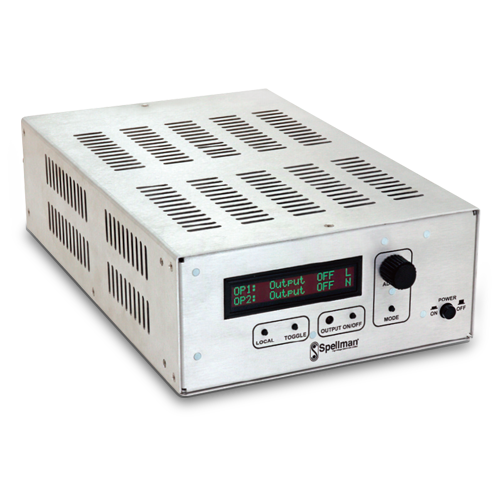 MSC2.5PN7.5静電チャック電源
MSC2.5PN7.5は、静電チャッククランプアプリケーション用に特別に設計されたバイポーラリバーシブル電源です。2つの高圧出力コネクタには、極性が反対の2つの0〜2500ボルト@ 7.5ワットのリバーシブル出力があります。プログラミングボタンとOLEDディスプレイを介したフロントパネルの制御により、ユニットのローカル操作と制御が可能になります。RS-232 / RS-485 / イーサネットデジタルインターフェースにより、複雑なシステム設計への単純なOEM統合が可能になります。
(Ref. 128027-001 REV. C)
Input:
+24Vdc ±5% @ <2 amps. Switch controlled on front panel and fuse protected.
High Voltage Output 1 and Output 2 Voltage:
0 to ±2500 volts. Output 1 and 2 amplitudes are independently programmable
Current:
0 to 3mA
Current Limit:
Output current limits can be independently set in the range of 0.1mA to 3.0mA in 0.1mA steps.
Power:
7.5 watts, maximum
Polarity:
Bipolar, High Voltage Output 1 polarity always opposite of High Voltage Output 2
Voltage Control:
Resolution = 1V
Accuracy = ±1% of programmed value
Regulation:
Line: <0.1% for 10% input voltage change under any load conditions
Load: <1.3% for zero to full load
Stability:
<0.1%/hour, <0.2%/8 hours at constant operating conditions after 1 hour warm up
Temperature Coefficient:
<50ppm per degree C
Ripple:
<0.1% p-p at full load, maximum output
Rise and Fall Times:
Rise time (0V to ±2500 V) and fall time (±2500V to 0V) are separately programmable in the range of 300ms to 9.9s (to within 1% of final voltage value)
Voltage Monitor:
Resolution = 1V
Accuracy = ±1% of actual output (±8 volt offset)
Current Monitor:
Resolution = 1.25 μA
Accuracy = ±2% of actual output ±100μA offset
Typical Load Capacitance:
<20nF (for other load capacitance, contact Spellman)
Protection:
Arc and short circuit protected. Equipped with input and output current limits. Output current limit settable from 0.1mA to 3mA.
Not designed to withstand continuous arcing.
Auto-Toggle/De-Chucking Function:
This unit has both a manual and a customer configurable automatic toggle function (degauss/de-chuck)
Communication:
The unit can be operated locally from the front panel. It can also be controlled through the RS-232/RS-485 serial interface, or Ethernet. The serial interface can be configured via the front panel to either RS-232 or RS-485. The unit is shipped from the factory set to RS-232. 9600 baud, no parity, no handshake or flow control. Note: When Ethernet is connected to the LAN port, Serial comms is disabled.
Front Panel Indicators:
The unit has a 20 character by 2 line back lit OLED display and a high voltage status LED. Configuration and setting of various parameters can be accomplished via push button switches. The OLED will power down after five minutes and is reactivated by pressing any button. The red LED indicator illuminates when high voltage is being produced. When the unit is shutdown due to a fault the LED will flash at a 1 Hertz rate until the fault is cleared.
Front Panel Controls:
The unit has front panel buttons for local control.
Local
The unit has front panel buttons for local control.
Toggle
Manual change of output polarity
Output On/Off
Soft turns the high voltage output on and off
Mode
Changes the mode of operation and navigation menu
Rotary Control/Enter
For navigating and entering value changes
Environmental:
Temperature Range:
Operating: 0˚C to 45˚C
Storage: -35˚C to 85˚C
Humidity:
0 to 85% RH, non-condensing
Cooling:
Convection cooled
Input Power Connector:
2 pin Molex VersaBlade connector. A mating input cable is available (see How To Order table)
Serial Communications Connector:
9 pin female D connector
High Voltage Output Connectors:
Radiall BNC-HT/MHV connector. Mating HV output cables are available (see How To Order table)
Installation Brackets:
A kit including 2 brackets and installation screws (M4x10) allows the unit to be mounted on a half width rack (see How To Order table)
Dimensions:
12.45˝ L x 8.03˝ W x 3.46˝ D (316mm x 204mm x 88mm)
Weight:
3.09lbs. (1.4kg)
Regulatory Approvals:
Compliant to EEC Low Voltage Directive. UK Conformity Assessed. RoHS Compliant.
INPUT POWER — MOLEX VERSABLADE 2 PIN CONNECTOR
| PIN | SIGNAL | PARAMETER |
| --- | --- | --- |
| 1 | +24Vdc | +24Vdc @ 2A |
| 2 | +24Vdc Return (Gnd.) | Power Ground |
SERIAL COMMUNICATIONS — 9 PIN FEMALE D CONNECTOR
| PIN | SIGNAL | I/O | SIGNAL PARAMETERS |
| --- | --- | --- | --- |
| 1 | NC | - | Connection |
| 2 | Z/TXD | I/O | TXD RS-232/RS-485 Inverting |
| 3 | Y/RXD | I/O | RXD RS-232/RS-485 Non Inverting |
| 4 | NC | - | No Connection |
| 5 | GND | - | Ground |
| 6 | NC | - | Connection |
| 7 | NC | - | Connection |
| 8 | NC | - | Connection |
| 9 | NC | - | Connection |
HOW TO ORDER
| Description | Part Number |
| --- | --- |
| MSC Power Supply | MSC2.5PN7.5 |
| Power input cable, 3m | HVC05/2NSO/1229 |
| HV Output cable, 3m | HVC5/1ISO/1228 |
| Set of brackets for rack mount | MSCK100 |
DIMENSIONS: in.[mm]
REAR VIEW
TOP VIEW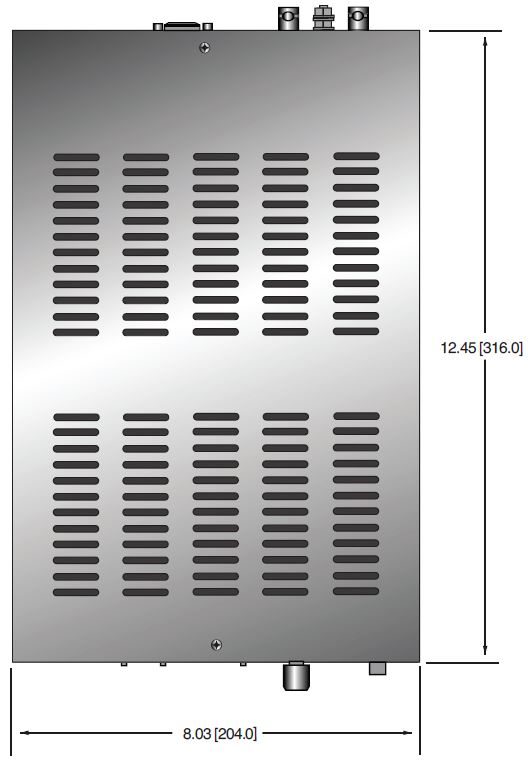 FRONT VIEW