Spellman to Exhibit at CMEF in Shanghai, May 14th to 17th – Largest Health Expo in Asia
5月 10, 2019
Suzhou Industrial Park, PRC – Spellman High Voltage Electronics Corporation, the world's largest independent manufacturer of custom high voltage power conversion products and X-Ray sources, announces that it will exhibit at the 2019 CMEF Annual Medical Equipment Fair, from May 14th – 17th, at the Shanghai National Exhibition and Convention Center. Spellman's booth is located in Hall 2, booth #2F01.

Spellman will present their extensive array of high voltage solutions for the diagnostic medical imaging industry, including the Z-Series Radiographic generator series, C-arm Monoblock, Compact CT generators, PDM Series Dental Pan/Ceph/ CT Monoblock® X-Ray Source, PMX Series mammography generator, Monoblock® X-Ray Sources for Bone Densitometry, and DGM power supplies for image intensifiers. Spellman Representatives will be on-hand to answer questions, discuss custom requirements and demonstrate select equipment.
One of our highlights will be the PMX 50kV generator custom designed for mammography applications including FFDM and DBT. Built into a compact, space saving modular format, it incorporates a dual speed starter, boost/brake capability and RS-232 and optional Ethernet interfaces. Its fast rise and fall times help minimize patient radiation exposure.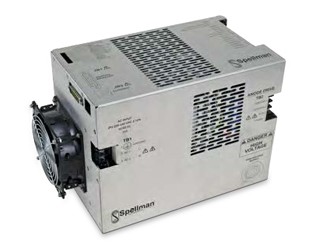 China International Medical Equipment Fair (CMEF), launched in 1979, is held twice annually – spring and autumn. After over 40 years of continuous innovation and self-improvement, CMEF has become the largest fair of medical equipment, related products and services in the Asia-Pacific region. The fair covers 15,000 products that include medical imaging, IVD, electronics, optics, first aid, rehabilitation nursing, medical IT and outsourcing services, and it serves the entire value chain of medical devices from the source to the end. At each fair, almost 4,200 medical device manufacturers from over 28 countries, and about 120,000 people who are government procurement agencies, hospital buyers and dealers from over 100 countries and regions gather in CMEF for trading and exchanges.
For more information about CMEF, click here: http://www.cmef.com.cn/
Spellman High Voltage Electronics is the world's leading provider of high performance, custom and standard DC high voltage power converters and Monoblock® X-Ray sources for medical, industrial, semiconductor, security, analytical, laboratory and under-sea cable power-feed applications. As a global supplier with strategically located design and manufacturing facilities in North America, Europe and Asia, Spellman is committed to providing best-in-class support to OEM customers and end-users throughout the world.
Additional information on Spellman and their wide range of high voltage products is available at: www.spellmanhv.cn