Spellman Introduces New Modular X-Ray Generator Series
12月 17, 2012
Hauppauge New York – Spellman High Voltage Electronics Corporation, the world's leading manufacturer of custom high voltage power conversion products, announces the introduction of the MFX Series of modular industrial X-Ray generators.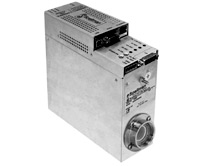 These compact, +24Vdc input X-Ray generators drive floating filament X-Ray tubes in a cost effective modular package utilizing an industry standardized mini Federal Standard X-Ray connecter.
Models are available with output voltages from 50 and 65kV at power levels 50, 65 or 75 watts. The MFX utilizes a closed loop filamentary beam control circuit to provide a highly regulated beam current. Optional Ethernet, USB and RS-232 digital interfacing capability is available. The MFX is ideal for OEM system integration, where enhanced performance in a cost-effective, compact format is required.
The MFX data sheet can be downloaded here: www.spellmanhv.com/MFX
Information on Spellman and their wide range of high voltage products is available by calling +1-631-630-3000, or by visiting their website: www.spellmanhv.com
Spellman High Voltage Electronics is the world's leading provider of custom designed and standard AC-DC and DC-DC high voltage power converters and Monoblock® X-Ray sources for medical, industrial, semiconductor, security, analytical, laboratory, and under-sea cable power-feed applications. With design, manufacturing or service facilities in the US, UK, Mexico, China, Korea and Japan, and with direct sales offices throughout Europe, Asia and North America, Spellman is committed to supporting advanced system providers and their customers throughout the world.